Hillsong United took home the night's two top honors: The Australian worship band was named artist of the year, and won for song of the year for "Oceans (Where Feet May Fall)."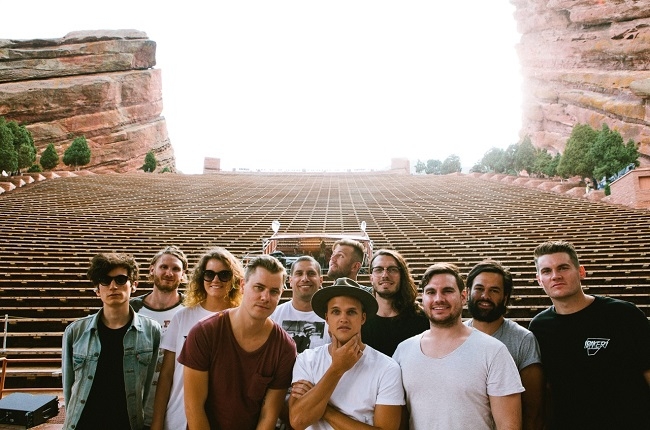 "The song 'Oceans' has opened so many new doors and so many great opportunities to share the message of Jesus," Hillsong United's Jonathan Douglass said backstage. "Only by the grace of God is this song doing what it's doing. . . People keep telling us the song is doing really well, but the way we gauge it is when we talk to people one on one, either back in Sydney [Australia, the worship band's home base] or all over the world. People grab me by the shoulders, look me in the eyes and say, 'I was going through this and that song is what helped me.' That's why we do these albums."
Chart-topping rapper Lecrae and Nashville newcomer Bart Millard of rock group MercyMe were fitting co-hosts for the wide-ranging show, playing up their obvious differences for laughs. In one comedy bit, Lecrae gave Millard his own hip-hop "hypeman," while Millard asked Lecrae to sing with an acoustic band.
"Where the turntables at?" Lecrae asked.
"Oh, we actually play our music," Millard replied. The room of industry folks roared with laughter, but Lecrae kept his cool.
"I'll remember that next time I'm on Jimmy Fallon," he said, referring to his recent appearance on "The Tonight Show."
In a more serious moment, the pair laid out the show's vision. "Tonight, we're putting the spotlight on the many ways artists use their music to let the word go forth," Lecrae said.
The variety of sounds was driven home throughout the show, from Newsboys' rocking opener, "God's Not Dead," to gospel giant Hezekiah Walker's soul-stirring "Every Praise." Halfway through the show, gospel legends Bill Gaither and Pat Boone were filling time with an a cappella number. Five minutes later, young hip-hop artist Andy Mineo was rapping as Brian Welch of Korn headbanged along.
Those in the audience were up for all of it, leaping out of their seats as quickly for rap supergroup 116 Clique as for Nashville rock duo For King & Country, who closed the show bashing on military drums as confetti rained from the ceiling.