Soweto Gospel Choir was formed in November, 2002 and in the month of  December, 2002 their first album "Voices of Heaven" was recorded and went on to reach the No. 1 spot on Billboard's World Music Chart within 3 weeks of its release in the US. In 2003 the choir won its first award, a Helpmann Award, Australia's prestigious Performing Arts Award, for "Best Contemporary Music Concert".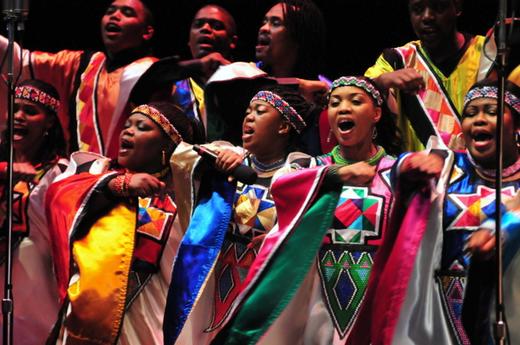 This success was followed when they won a 2003 American Gospel Music Award for "Best Choir".In the same year, they won an American Gospel Music Award for "Best International Choir" and performed for President Bill Clinton at a corporate function in Little Rock, Arkansas. In October 2006, the choir performed as invited guests for their Patron, Archbishop Desmond Tutu's 75th Birthday Celebrations, in front of an illustrious audience which included former President Nelson Mandela, Mrs Zanele Mbeki, Tokyo Sexwale, Samuel L Jackson, Alfre Woodard and Carlos Santana.
In December 2006 they performed at Sun City, South Africa, infront of  Oprah Winfrey and 200 of her V.I.P. guests, including Mariah Carey, Mary J Blige, Tina Turner, Patti Labelle, Sydney Poitier and Quincy Jones.On 11 February 2007, Soweto Gospel Choir received its greatest accolade, a Grammy Award for their second CD "Blessed", in the category "Best Traditional World Music"
At the same time, they were nominated for the 26th International Reggae and World Music Awards, held at the Apollo Theatre, Harlem, on 5 May, in the category "Contribution to World Music", alongside Jimmy Cliff, Salif Keita, Youssou N'Dour and Ziggy Marley.In May 2007, the choir won a SAMA Award (South African Music Association Award) in the Category "Best Live Performance DVD".
In June 2007 Soweto Gospel Choir was the support act for the Red Hot Chilli Peppers at their concerts in Germany.To add to their string of national and international awards, in November 2007  Soweto Gospel Choir won a Metro FM Music Award for Best Gospel Album  for "African Spirit", based on nominations submitted by the radio station's listeners, and the public. Amazingly in February 2008, the choir was awarded a second Grammy Award for their third album "African Spirit", in the "Best Traditional World Music" category plus they were  honoured with the PanSALB Award for  Multilingualism and Nation Building, for "Album of the Decade"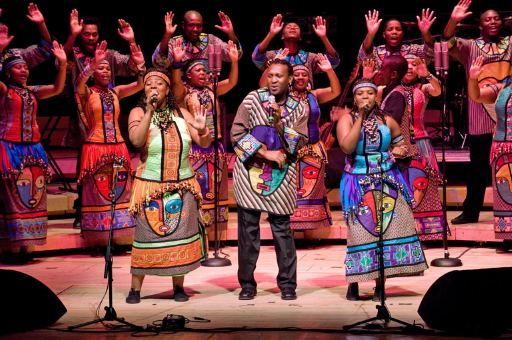 The choir has had the honour of performing with gospel legends Bebe Winans and Kirk  Franklin and While in New Orleans,they recorded a track with rock legend Robert Plant, which was included on a Fats Domino tribute album, with proceeds going to the victims of Hurricane Katrina.
The choir has toured the world extensively, performing at prestigious venues like Carnegie Hall, Sydney Opera House, the Nelson Mandela Theatre and Royal Festival Hall in London.   They have performed at high profile festivals such as the Edinburgh Festival, the Adelaide Festival, the Hong Kong Festival, and the London Festival, always to huge acclaim.
Soweto Gospel Choir received its third Grammy nomination in December 2008, this time in the category Best Contemporary World Music, for their album, "Live at the Nelson Mandela Theatre" . The song "Down To Earth" from the blockbuster Wall-E movie, their collaboration with Peter Gabriel, won a Grammy in the Best Movie Song category. In February 2009, the choir became the first South African artist to perform at the Academy Awards, when they sang "Down To Earth", the Gabriel/Newman Oscar-nominated song, with John Legend.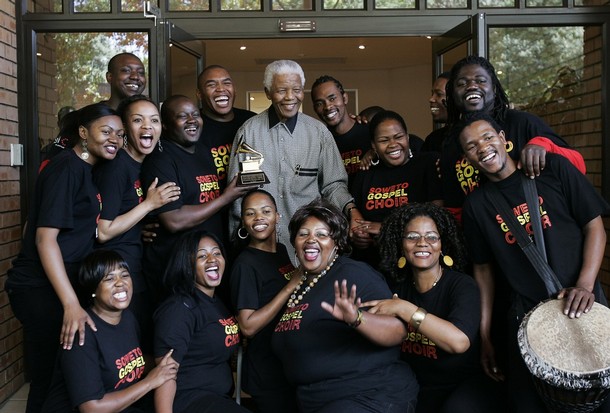 In July 2011, eighteen choir members performed six concerts in Maastricht, Holland, with top selling classical violinist, Andre Rieu. They joined the Harlem Gospel Choir on stage as a first time collaboration between these world famous choirs. Soweto Gospel Choir joined Archbishop Desmond Tutu and his guests for his 80th birthday celebrations, held in Cape Town in October.
They also sang with other artists at both the cathedral service and the private luncheon for their patron. Bono described them as "brilliant"!.In November, the choir was given the honour  by Clarence House, of welcoming Prince Charles and Camilla, to Soweto, during their royal visit of South Africa. Also in November, the choir performed two sell out concerts at Sun City, with Josh Groban, joining him on stage for audience favourites "Lullaby", "Weeping" and "You Raise Me Up".
The choir is an Ambassador for Nelson Mandela's 46664 campaign and has performed at the Cape Town, Johannesburg, London and New York concerts with artists such as Peter Gabriel, Bono, Queen, Jimmy Cliff, Johnny Clegg, Eddie Grant Amy Winehouse, Queen Latifah, Wyclef Jean, Aretha Franklin and Stevie Wonder.Soweto Gospel Choir has founded its own AIDS orphans foundation, Nkosi's Haven Vukani, to assist organisations that receive little or no funding. To date, the choir has collected over R4million for their foundation.  In South Africa, the choir performs for a variety of charitable organisations.