After being confirmed as the new Kenya 7s Coach Paul Treu is set to take charge as coach in "Operation Rio".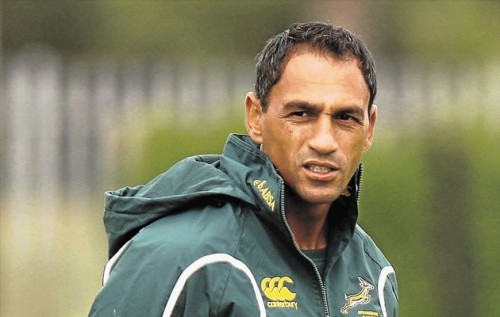 The KRU has reached an agreement with Treu that local coaches and sports science experts will be able to permanently study under the Kenya Sevens' programme.
With a great technical bench comes cost and this is what KRU is planned to spend.
The most highly paid staff in "Operation Rio" will be Treu himself who will be earning a nett monthly salary of Sh935,000 [$11,000].
He will also receive;
*Four economy class air tickets for Cape Town-Nairobi-Cape Town per contractual year
*3 economy tickets for Nairobi-Johannesburg- Nairobi per year,
*Allowances while on the IRB Series tour.
*While in Kenya be provided with : a car, housing, fuel, medical insurance and paid-for WIFI, mobile telephone services.
On top of that, success of "Operation Rio" coming at the end of the three-year contacted period will result in healthy bonuses.
Upon the Kenya Sevens team qualification for the 2016 Olympic Games, some members of Treu' SA technical team, for example attack coach Zangqa, will receive $250,000 (Sh21m) nett.
Upon the team winning a Bronze medal, Zangqa will get $50,000 (Sh4.5m); upon the team winning a Silver medal, $100,000 (Sh8.5m) and upon the team getting Gold medal $250,000 (Sh21m).
The rest of the teams' bonuses will be negotiated through the sponsors and the government of Kenya. KRU is taking an insurance policy to cover for the bonuses. These bonuses will be paid not less than seven days after the team attains those achievements
-Box News