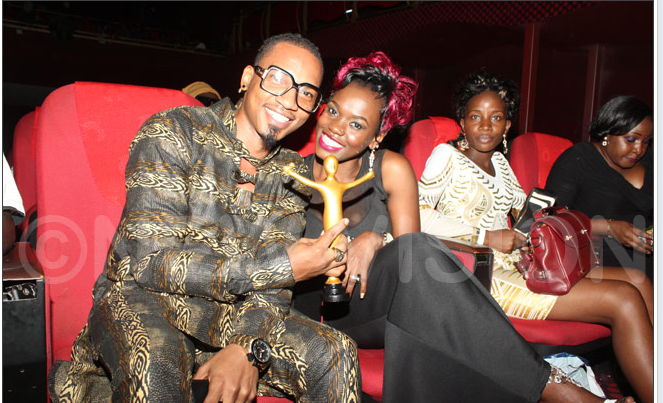 On Saturday Uganda gospel artistes got an opportunity to be recognized by their fans for the work they do in their music ministry in the ultimate gospel awards, VIGA 2014. The top winners of the awards were Exodus who scooped best male and Joy Tendo who was named the best female artiste of the year.
The show kicked off just a few minutes to 7:00 with the MC of the evening, Spirit FM show host, King Wesley welcoming the guests to the night that would soon be characterized by feelings of ecstasy, anxiety and powerful musical and dance performances.
In the middle of the performances, just before the awards were given away, Prince Nick Nyombi, the lead organizer and Chief Executive Officer of the Victoria Gospel Academy addressed the audience and briefed them about the technicalities that were involved in the thorough selection of the award winners for the various categories.
The winners were finally announced at the fully packed Theatre La' Bonita, on 9th August Saturday evening. Dafari was the Kenyan artiste who got an award in the Kenyan category with Exodus and Joy Tendo picking the top awards.
Here is the list of winners
Genre/style awards:
1. Acapella Category: Canan Gents
2. Pentecostal Choir Category: Kigenge – Holy Gate Choir
3. Anglican Choir Category: Kirooto – Gospel Elite Crescendo choir
4. Catholic Choir Category: Number one – Divine Love
5. Adventist Choir Category: Amayengo – Glorious Singers
6. Traditional music Category: Katonda byakola-Wilson Bugembe
7. Reggae Category: Yayamba – Rev. Esmond & Rachael Sserunjogi
8. Hiphop/Rap Category: Graduation-S4J
9. Dancehall/Ragga Category: Newunya-Robin San
10. RnB/Jazz/Soul Category: Nonya Omu – Levixone
11. Kadongo kamu Category:Ye ggwe munange – Joseph Ngoma
12. Afristyle/Soukous/Zouk Category: Dagala – Pr. Betty Badda
13. Afro-Beat/Kwaito: Mbigambe ani? – Gladys Mirembe
Production and support awards:
1. Song Writer Category: Ssozi Moses
2. Video Producer Category: CVL- Aiden
3. Audio Producer Category: Paddy Man
4. Best Promoting Icon Category: Wemix
5. Best Musician/Instrumentalist Category: Charmant M ushanga
6. Best Dance artist/crew: Storm Ridders
7. Best Music Instructor/Trainer: Sserukenya Wassanyi
Exceptional and technical musical awards:
1. Worship & praise category: Faithful-Pr Kayanja Team
2. Inspirational song: Ensi ekoma – Joseph Ssegawa
3. Junior category:
4. Video of the year: Prophecy by Exodus
5. Best performer: Pr Betty Badda
6. Album of the year: Okiriziddwa(Favor) – Judith babirye
7. Exemplary theme category: Muvubuka – McAfrica Kilwana
8. Long service/legends: Prof. Simoene Kayiwa & Robert Munyagwa-Golden Gate Choir
9. VIGA merit award: bishop Steven Senfuma
10. Live band category: Onsanyusa – Emiziki Band
11. Special entity category: Kyalimpa-Mesach Ssemakula
12. Upcoming artist: Mpawo mirembe – Kiggundu Wilson
13. New talent: Eggulu si bodaboda – Jcross & Pollo
14. Social media song/artist: Canaan Gents
15. Best collaboration category: One In A Million – Cooper And Naava\a
16. Best male artist: Exodus Best Female artist: Joy Tendo
17. Song of the year: Ssaba – Julie Mutesasila
Regional awards:
1. Diaspora category: Ronnie Mukisa
2. Kenyan category: Dafari
3. Eastern Female Artist: Talemwa- Peace K. Nambi
4. Eastern Male artist: Njevudde-Pastor Tom
5. Eastern group: Oh Uganda-Evangel Youth