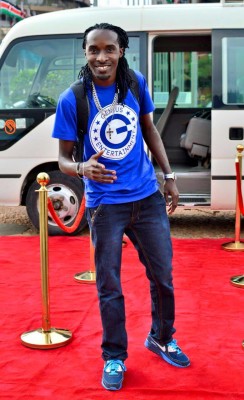 Founder and CEO of Genius Entertainment, Dj Sadic has officially released his brand new logo. DJ Sadic released the official logo on his social media accounts and went ahead to explain the inspiration behind it on a phone conversation with Uliza Links by stating that he has decided to do some re-branding. 
The logo is a sign of a fresh start to Dj Sadic's brand where he uses the symbol of a dove and a stylus, with the names Dj and Sadic creatively and uniquely put as one under the dove.
"I created the logo firstly to identify Dj Sadic as a Christian and to show that God is the source of my skills. I also wanted to show that music comes from God. With that in mind I decided on a dove. I also wanted to show the musical element and so decided on the Dj stylus.
He goes ahead to say, "I wanted to show that DJ Sadic is unique. I managed to show this uniqueness by writing my name in a unique way – a way that no one else has done before. I was fortunate that DJ & Sadic could be combined."
Followers on his Instagram page largely appreciated the new logo, stating it as a good work of creativity and encouraging him to continue on with the work of God in his deejaying ministry.
Dj Sadic is the Managing Director at Genius Entertainment which holds other affiliate companies and brands under its name. They include the Genius Deejay School, Genius Records and Genius Wear 254. He is also a Groove Awards nominee in this year's Groove Awards under the category of DJ OF THE YEAR.