After Senator Mike Sonko adopted baby Santrine Osinya who lost his mother during a terrorist attack at a Mombasa Church and had a bullet dodged in his head during the attack that was later removed through a surgical  operation.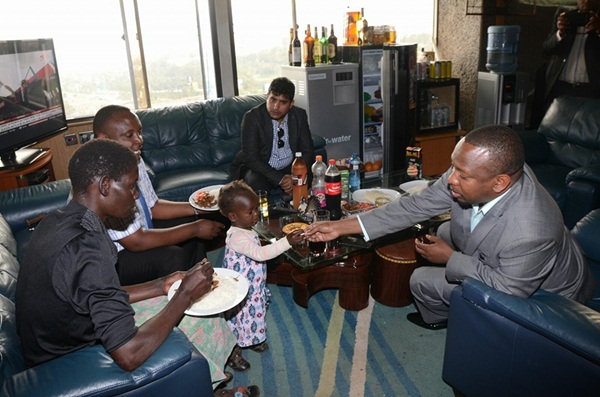 Senator Mike Sonko is once again giving hope to another child as he intends to adopt baby Christine whose mother a vendor in the streets of Nairobi  has been living out in the cold at Muthurwa Market with her.
Touched by the plight of the Hellen Nasieki's story which was highlighted through social media the Nairobi lawmaker offered to adopted the child and have her mother work at his home as a home assistant.
Yesterday the philanthropic senator had the opportunity to meet with Hellen and her daughter Christine at his office where he shared a meal over lunch time with them and offered her the proposal he had in mind.
"After going through Hellen Nasieki's story on social media I volunteered to offer a helping hand. Yesterday I invited her, plus her daughter Christine and a good samaritan Ndung'u Nyoro for a lunch meeting in my office. I was quite saddened by Hellen's living conditions so I offered to give her a second chance at life. I proposed to adopt her daughter Christine and to also work closely with Hellen Nasieki as my home assistant." Sonko divulged.
Here are the photos of the meeting of Hellen Nasieki and daughter Christine with the Senator.