For the heart of caring for one as if she is she your blood sister, Kambua , Mbuvi , Alice Kamande , Mercy Wairegi and R Kay will be headlining a concert for one of their friends who has been diagnosed with Diabetes. The Bible says in the book of Acts 20:35 that it is more blessed to give than to receive and the artistes will  be doing that as they urge others to join them in the great course.
The lady by the name Bibiche Ellie Mukusa was a happy lady like any other when she was expectant but sadly she was diagnosed with Diabetes after she gave birth to her son Ethan earlier in July 2013. Now she has been on 24 hour nursing care since then and her bill has risen to a total of Ksh. 6,000,000/- shillings. Kambua urged friends to join her and other artistes in the fundraising concert  that will be hosted at Parklands Baptist church on Saturday 15th  November.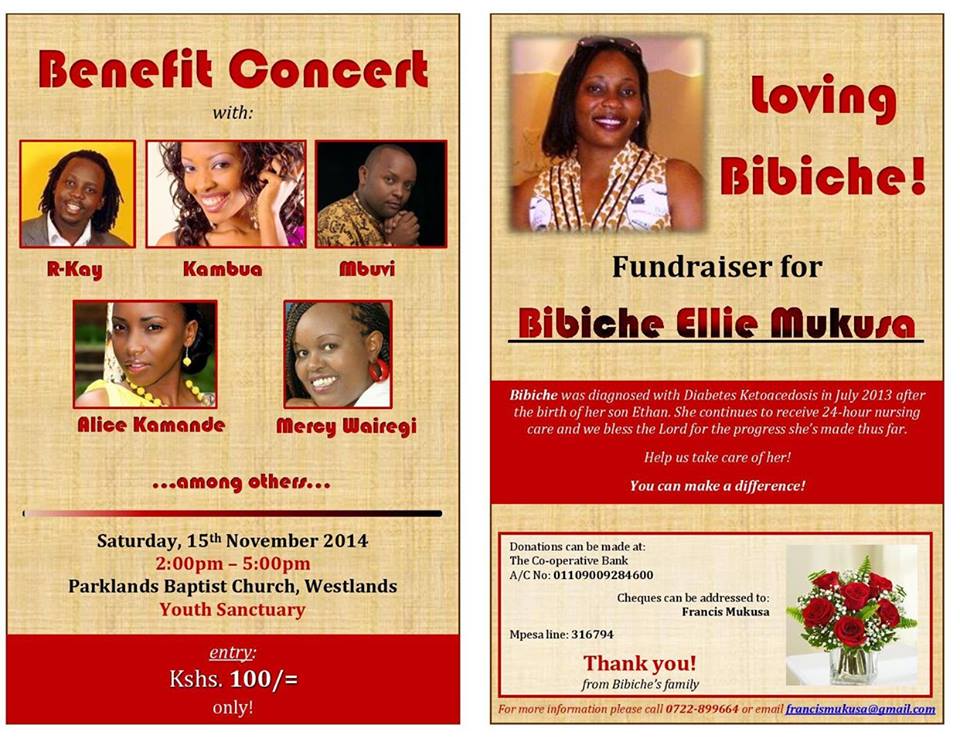 "A friend of ours was diagnosed with Diabetes ketoacidosis in July 2013 after the birth of her son. She has been on 24hr nursing care since. As her friends we're putting together a fundraising concert this Saturday 15th November, at Parklands Baptist to help her family offset her medical bill which is currently at 6,000,000/- (six million) Kshs. Entry is only 100/- please come and carry extra to love on Bibiche and her family. God bless you!!" Kambua said.
Please if you have time try and attend and support the good course.