In 1999, when he was in his early 20s, Guillebaud gave up a steady marketing job to move to Burundi, a war-torn nation in the Great Lakes region of Southeast Africa. In the 15 years since, he has seen God move in incredible ways, and is passionate about seeing the country and its people fully restored.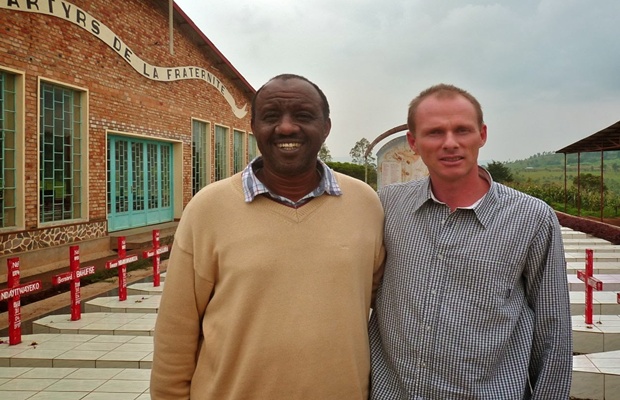 "I went out with a few hundred pounds, most of which got stolen on the first day, and I just thought 'Bring it on,'" he tells
"That was in 1999, when Burundi was the most dangerous country in the world and I fully expected to die. Other people I cared for were killed and there were tons of ambushes, but I remember a friend once leaned across to me and said: "We're immortal until God calls us home".
Philippians 1:21-22 says "To live is Christ and to die is gain…which shall I choose?" That's a win-win. I desire to be with Christ, and safety is not the absence of danger but the presence of God. We live by fear so often in Western culture, but in Burundi you have to live by faith."
Guillebaud set up an umbrella organisation, Great Lakes Outreach (GLO), which works with local groups and gifted leaders to share the Gospel, and has seen one percent of Burundi come to Christ in the last eight years – 100,000 people.
He is full of compelling stories about miraculous events. "My friend Agnes was deaf, dumb and blind, and she was permanently curled up in a ball. For seven years her parents would wheel her onto the patio to catch the sunlight and then wheel her back inside every single day," Guillebaud recalls.
"She must have been prayed over a bunch of times, but then a group of young people prayed for her and her whole body uncoiled. She got her sight and hearing back but was still lacking speech. She joined a church choir by faith and then a few weeks later God released her tongue to praise him and since then she has not shut up!" he laughs.
"She's a turbo-charged evangelist, and you just can't debate her story – she was on national radio, and everyone knew her as a vegetable but now she's fine."
Currently in the UK with his wife and three children for two months, Guillebaud has no plans to leave the mission field just yet.
"I don't want security – when you have security, you don't need God. I just want to be in his will, that's the safest place to be. It's amazing to have the opportunity to come back and tell stories and see lives transformed through prophetic little Burundi where the Lord is doing great things.
"It's in the darkest places that light shines the brightest."
(c) Christian Today