Christian Filipino boxer Manny Pacquiao and his wife Jinkee recently went to Wirogunan prison in Yogyakarta, Indonesia, to visit condemned overseas Filipino worker Mary Jane Veloso, who has been sentenced to death for smuggling heroin to Indonesia.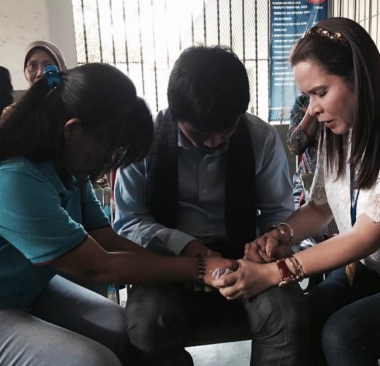 Christian Today reports, Veloso has claimed innocence over the act, saying she has been framed by alleged trafficker Maria Kristina Sergio, her live-in partner Julius Lacanilao, as well as an unidentified African man.
Philippines President Benigno Aquino III appealed to Indonesian President Joko Widodo to grant Veloso clemency, and so did Pacquiao, just two days before her scheduled execution on April 29 this year.
Widodo appeared to have heeded the pleas made by Aquino and Pacquiao as he ordered that Veloso be spared from execution that day.
However, her fate still hangs in the balance since her execution was just deferred to help Philippine authorities prosecute the brains behind the drug trafficking syndicate that used Veloso as a drug mule.
During the boxing champ's visit to the detention centre where Veloso was awaiting her fate, she was moved to tears upon seeing the Pacquiao couple. Pacquiao did his best to offer her words of comfort and inspiration.
They said a prayer together. This was captured in a photo Pacquiao posted on his Instagram account (@mannypacquiao). "Praying with Mary Jane Veloso. Please keep her in your prayers," he said in the caption.
Jinkee also shared similar pictures on her Instagram account (@jinkeepacquiao). "When I (prayed) for her, tears (flowed) in my eyes," she wrote.