A  young man in Nigeria, Thompson Ntiedo has been arrested for taking pictures of a policeman collecting bribe from a commercial motorist.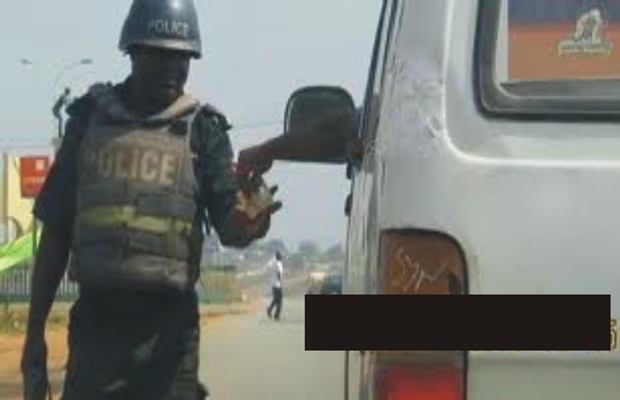 According to Nigerian newspaper reports  he was arrested a police man on Tuesday evening, who claimed they were carrying out the directives of the Divisional Police Officer (DPO).
The victim was detained for three hours, released then bailed out with his two phones confiscated after he was forced to
delete all
the pictures he took.
Narrating his ordeal, the victim said:
"I was in a commercial bus when we got to the area and one of the policemen on the road was demanding that our driver bribe him.
"I brought out my phone and captured him and they saw me. They dragged me out of the bus and seized the phone I used to take the pictures."They said I was under arrest but I begged that they should delete the pictures and release me but they refused.
"The next thing, they called the station and a patrol van appeared and they demanded that I enter because the DPO wants to see me.
"When we got there, they didn't take me to meet the DPO neither did they release me. I was there from 6pm to 9pm.Afterwards, they asked me to go home and report back by 9am the following day ( Wednesday ). But before I was released, I had to call one of my brothers with my second phone to come and bail me.
"Meanwhile, before I left that night, they also seized the second phone from me and I went home without any of my phones.
"I got there Wednesday by 9am and waited till 2:40pm before my second phone was released. This was after the human rights officer intervened in my case and asked them to let me go.
"Even at that, the policeman handling my case went to Ikeja to submit my report and so I had to wait till he got back for my phones to be released."