Award-winning actress Ms Lupita Ngong'o was on Wednesday moved to tears after pupils from Mariwa primary school performed a touching poem on Insecurity in Kenya.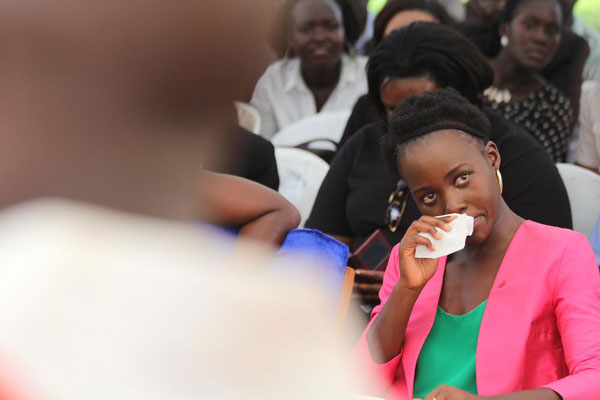 The pupils Choral Verse dubbed Magenga was in Dholuo and it listed the high number of Kenyans who had lost their lives to terrorist attack. It narrated how a young man who promised his mother a house was killed terrorists.
"You had the ambition of being a doctor.
Why did you die before putting on the graduation gown?
Why did they kill you before you build me a nice house that you promised?
Why the insecurity in the country," the children sung.
Immediately after the performance Lupita and her mother madam Dorothy Nyong'o shed tears.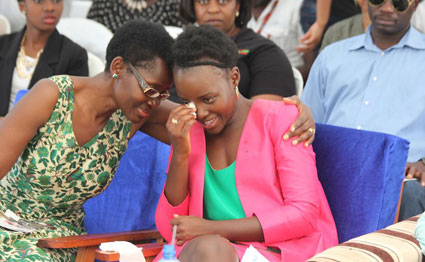 Kenya has faced several attacks over the past two years the biggest ones being , Westgate , Mpeketoni and Garissa attacks all of which claimed over a hundred lives separately.
When Lupita got on stage to speak she took time to encourage the girls to put more effort in life so that they can be able to achieve what they want to do. She went on further to inspire them by requesting them to work towards making a change in the world.
"Differences make us the same than nothing else, do not loose sense of who you are while struggling to retain your identity,"It doesn't matter where you come from but where you going. Work towards making a change to the world and you would be known." She said
Ms Ngong'o encourage the pupils never to never look at thier current situation since it doesn't determine their future.
"You may be facing numerous challenges at home your parents may be poor you could be living with unsupportive relatives. Do not let this define you or your future. You were created to achieve more and to be the best the world can have, She told the little girls