Adawnage Band shall be hosting a listening party for their  second album on the 31st of May, 2014 at the Michael Joseph Centre, Westlands, Nairobi. The event will run from 3 p.m. till 5 p.m.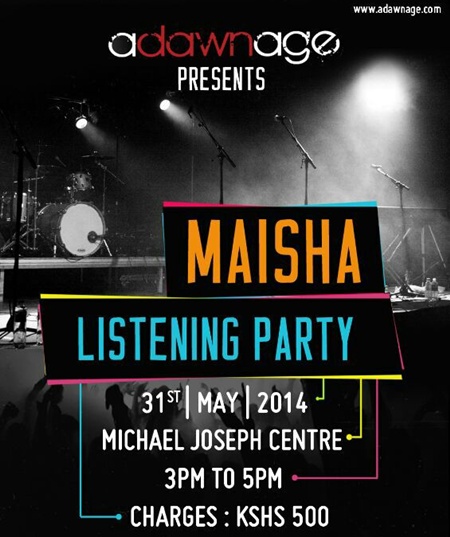 The listening party will be an opportunity to sample new inspiring tunes from their second album. The album is a compilation of different genres from Afro-Rock/ fusion/ Pop, Seben, Reggea and even a love song. It promises to be more dynamic and nourishing to your spirit- man. The event will therefore be a teaser of the main launch which will be held later in the year.
It is their pray that the second album will be a blessing to their fans, family and friends all over the country and across our borders as they lift the Name of the Lord Jesus Christ and strive to achieve their core mission which is "Transforming lives through God inspired Music and Lifestyle". The songs are as follows:
1) Tulizo – Afro with a Coastal feel to it. Talks about how within this life one has and will search but nothing and no one can and will satisfy like Jesus can.
2) All in All – Reggea tune and talks about His will becoming your will and where he does or says is what you say and do thus surrendering all that you are.
3) Vile Vile – It has a Benga feel. It's a praise song unto the Lord for what he has done and how far he has brought us despite our mess and mess ups.
4) He will save you – It's a reach out song testifying that the Father truly loved us that He sent his son to die for us and it is by His Blood, we are truly saved.
5) Do you Know – Has a South African Zulu feel telling a story of how a lady meets a man and the man promises heaven but the lady asks one fundamental question, Do you Know and Love the Lord Jesus Christ?, coz that's where we start.
6) Mercy Surrounds me – Soft Rock. It's a declaration song proclaiming that indeed our God is good and His mercies endure forever.
7) Hakika Ndiye – Has a Jazzy feel to it and is a proclamation that He truly is our King, savior, healer and the very essence of our being.
8) I live for you – Afro Pop with a clap along tune. Underlines the very essence of why we exist, "for in Him I Live and Move and Have my being".
9) I surrender – Soft Rock. As we approach our Father and King, there is nothing else we have come to do but to offer a sacrifice of praise and surrender to Him who is all powerful.
10) Maisha – Afro Pop. This is a happy song with a look into how life has two sides of the coin, but reminding us that even when we fall we should just dust ourselves and rise up again.
11) Ready to love. – This is a love song thanking the Lord for answering my prayer when I asked him to give me my life partner and someone to love. It's just like it was meant to be.
We have very limited space at the venue therefore you will be required to buy your ticket early. Tickets go for Kshs. 500 only. There will also be some Adawnage merchandize being sold as well as some give-aways.
Tickets are available at:
1. Wakestar Christian Store – Rehani House (Ground Floor), Koinange Street.
2. Lois Office Solutions – Diamond Shopping Mall (3rd Floor, Suit 3B) – Tom Mboya
Street, opp former Odeon Cinema.
For reservations, call David on 0721 341 291