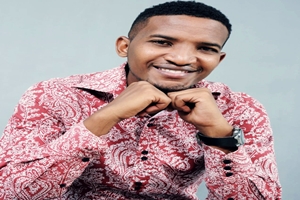 One evening I was sitting with a journalist who let me know that the next day he was going to release an article that he had written, an article whose title was going to be, the gospel industry is on it's death bed. I remember sitting in that meeting and trying to think of reasons that I could give him to prove to him that there was no need of such an article but my heart became so heavy because I could not even convince myself, let alone convince him not to put up this article. As I sat there with deep sorrow in my heart, I was reminded of a story in the bible. In the book of Samuel 16 we learn the story of a young Man called Samson. Samson's story takes place during a time when God was punishing the Israelites, by giving them into the hand of the Philistines. The angel of the Lord appears to Manoah and his wife who was unable to conceive. The Angel of the Lord proclaims that the couple will soon have a son who will begin to deliver the Israelites from the Philistines. The wife believed the Angel of the Lord, but her husband was not present, at first, and wanted the heavenly messenger to return; asking that he himself could also receive instruction about the child who was going to be born. Requirements were set up by the Angel of the Lord that Manoah's wife, as well as the child, was to abstain from all alcoholic beverages, and her promised child was not to shave or cut his hair.
He was to be a "Nazirite" from birth. Samuel strength was to be specifically used to rescue the Israelites from the hand of the Philistines. But as we continue reading the book we realize that Samson decides to use his strength not for what God meant it to be used but for his own personal gains. He begins to go to Gaza to get a wife from the very people that he was supposed to be fighting against. His parents caution him against that move and encourage him to get a wife from among his people but Samson is adamant. Eventually he gets married to Delilah whose name means, she who weakened, and she ends up convincing him to tell the secret to his strength. After lying to her afew times he tells her, she drugs him to go to sleep, she cuts her hair and proceeds to call the Philistine soldiers who eventually capture Samson and the first thing they do is gouge out his eyes. The most powerful man who ever lived is taken captive and reduced to an entertainer who was called out when the philistines were drunk to entertain them.
Now what lesson can we learn from this story? As gospel artists God has given us the talent and the favor to not just make money which is important but more importantly to save a whole generation from being destroyed by sin. I feel just like Samson, we took the talent and decided to use it for our own gain rather than for what God meant it to be. Instead of using it to save the young people some of us have decided to use it to take advantage of the same people we were supposed to be reaching out to. From the stories that have been making headlines and those that haven't, we have heard countless stories of people whom havebeen hurt physically, mentally and emotionally by us. Stories of unimaginable sins committed against the very same people that we're meant to touch and for God to speak into their lives through us. I remember afew years back when we coined the term "gospel has taken over" and this was a very troubling statement for me and many people. The question that always lingered on my mind when I heard this statement was, what is the criteria being used to determine that gospel has taken over? I feel like we looked at the fact that gospel artists were among the highest paid in Kenya, red carpets were being rolled out for us, our music was being played all over the place even in clubs and corporates wanted us to headline their shows as the sign that gospel has taken over.
I feel that this is a very skewed and shallow way of determining that "gospel has taken over". To determine that gospel has taken over we must look at our society and ask ourselves, is immorality reducing in our society? Are people becoming God-fearing and drawing closer to God or are they walking farther and farther away from God? By these standards our society is not doing very well. Today in our country we have a moral crisis. Corruption has taken over our institutions including the church, people are becoming overnight celebrities for being socialites and others for not paying their hotel bills while our leaders have abandoned their duties of serving the people and are exploiting the very same people wh have given them the mandate.
If we can recall the story of Samson, after he played with sin enough times, it caught up with him and when the Philistines arrested him they gouged out his eyes, which was very symbolic. He could not see what he was doing or where he was going and had to depend on his enemies to show him around and as we read in the story, they led him straight into a dungeon where he became their slave and clown. Could it be that we have played with sin so much that we have been blinded to our ways? Why can't we see through all these scandals that we're playing right into the tricks and plans of the enemy? The bible says that when the Philistines had their parties and were drunk, they would ask Samson to be brought out to entertain them? A warrior who was supposed to rescue Israel was reduced into a clown by his own decisions. Are our songs changing the lives of the people or have we become a source of entertainment to a generation that is dancing it's way to hell? When our songs are played in the clubs do they cause someone to reflect on their life and choices or does it encourage them to grab someone that they just met and dance the night away? Is the talent that God gave us to change lives being effective or has it become merely a source of entertainment? There were instructions given when Samson was born but he forgot them, have we forgot our instructions? We have to reexamine our lives and ask ourselves these tough questions.
The good news is that the story of Samson does not end there. The bible says that Samson asked God to give him one more chance and with one blow he killed more philistines than he had ever killed before. We must be honest with ourselves and acknowledge that as the gospel industry we're not where we used to be afew years back. We used the talent for our gain, we played with sin and allowed Delilah to know our secret and bring us down. We have scandals left, right and center and the most troubling part is that some of us are even ready to defend our ungodly actions rather than repent secretly to God and publicly to those we have hurt. God still loves us and like Samson He's willing to give us one more chance to repent, correct our wrongs and become more effective in ministry than we have ever been. Our land needs healing and as the bible reminds us in 2nd Chronicles 7:14, "if my people, who are called by my name, will humble themselves and pray and seek my face and turn from their wicked ways, then I will hear from heaven, and I will forgive their sin and will heal their land." I believe that gospel took over, two thousand and fifteen years ago when our Lord and savior Jesus Christ came to the earth to die and redeem us from sin. When this happened the society then did not roll red carpets for Jesus, they did not pay Him more than the preachers of His day,they crucified Him. But because He knew who He was and what He had come to do, that same society was transformed through His ministry.
We are a chosen generation and we have an opportunity to not only redeem ourselves but to redeem our land and transform our generation, the question is are we going to take the opportunity or are we going to be the proverbial people who have never missed an opportunity to miss an opportunity? Jesus said that we will do even greater things than He did? Are we ready to do greater? It is time for introspection because as Romans 8: 19 reminds us, "For the creation waits in eager expectation for the children of God to be revealed."