This valentines Nairobi street families will experience something different when they get an extreme make over from Alumasi Heart Trust.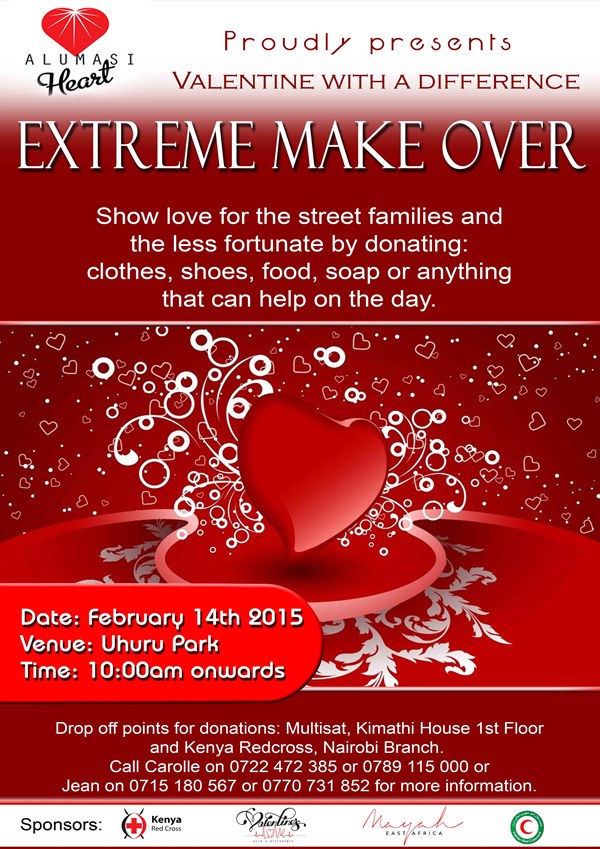 The event, themed, 'Extreme Make Over' is targeted to street families with the idea aimed at sharing love with them on Valentines day by cleaning them, giving them a change of clothes, feeding them and treating them
for free through a medical camp in the same venue.
The event is owned by Alumasi Heart Trust and is sponsored by The Kenya Red Cross Society, The Iranian Red Crescent and Mayah East Africa.
The organizers stated :
We target to directly impact 1000 people, both children and adults
with a break down of activities as below:
Reception:
Street families will be registered with as much information and bio
data being collected.
Sanitation
We will have bathrooms on site whereby everyone registered shall take a shower, brush their teeth, have their hair shaven etc.
Wardrobe
After showering, participants will be taken to a dressing section where they shall be given clean clothing and foot wear.
Medical Check up
They shall then undergo a medical check up and treatment with severe cases being referred to a partner hospital, preferably Kenyatta National Hospital. We shall have an ambulance in place in case of any emergency cases. Those who need follow ups shall be given cards to visit participating clinics in future.
Meals
Food and refreshment will be provided to all.
Entertainment and Talent Search
There shall be entertainment from popular artists who managed to walk out of the streets and made it in life. We will also have talent scouts to identify and mentor the talented and the willing street children.
The intention of #VWAD is to have fun, engage and enlighten the people targeted.
So the key message is to call out to the public to share their love with the less fortunate by donating clothes, shoes, food, soap or anything that can help on the day.
Drop off points for donations: Multisat, Kimathi House 1st Floor and Kenya Redcross, Nairobi Branch.
People can call:
Carolle on 0722 472 385 or 0789 115 000 or
Jean on 0715 180 567 or 0770 731 852 . for more information.