Sarah Fana is her name from Eritrea and now she sings here in Kenya as a gospel singer. She talks to us about her life and how she lost her Dad and brother and also how she was persecuted as a christian.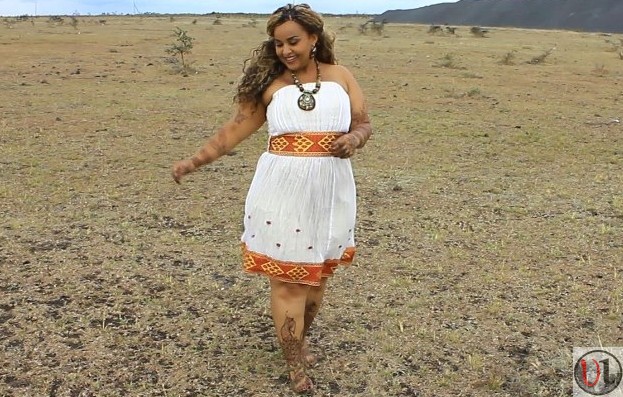 At times being a Christian is not easy as many go through challenges and others even go through persecution like the case of Sarah Fana.
Read below.
Her full name is Sarah Fana Hagos but goes by Sarah Fana. Sarah is the 10th born in a family of 12. She is Eritrean born but Kenyan based.
Sarah was born and bred in Ethiopia but relocated to Eritrea when her parents, who are Eritreans, were deported back to Eritrea after living all their lives in Ethiopia. 
Eritrea is located on the eastern horn of Africa with a population of 3m people and currently the Pentecostal church is under a lot of persecution since the year 2001. Her being Eritrean was magnified when her parents were deported back to Eritrea after living all their lives in Ethiopia. 
This relocation meant that she and her whole family had to learn a new way of life. From living in a big mansion in Ethiopia to a single room house in Eritrea – the change was nothing short of drastic! Back in Ethiopia, Sarah's father was a wealthy metalwork garage owner but the relocation meant a start from zero! 
"This was really traumatizing for me and for the whole family." says Sarah. The deportation meant that her mother had to go back to Eritrea with her underage kids – that was Sarah, her older brother and her last-born brother.
There was no communication between the family that was heading back to Eritrea and Sarah's other brothers who were in Ethiopia because of the war that was going on between Eritrea and Ethiopia. This lack of communication was stressful to the whole family. Like that was not enough, Sarah's older brother had to join the war, as it was the obligation of any Eritrean. 
"After not knowing where my brother might be for around 4 years, at last we were told he was killed in the battle field. We were all devastated but at least I know he knew the Lord just before he left to be a soldier. That caused my dad a lot of pain and he passed on as well 6 months after my brother's death news." Recalls Sarah 
Sarah was left with all the family responsibility at a young age of 15 ½. She had to start working and providing for her mother, who was completely crushed at this moment, and for her last born brother who was also in the battle field. "It was hard and painful but God has been there for me all through." She states.
Sarah is a born again Christian. She adds, "My slogan is INWC – I'M NOTHING WITHOUT CHRIST!" Her Christian faith hasn't been easy at all. She continues, "I was persecuted by family members, by the Eritrean society and by the government as any Eritrean Pentecostal denomination follower is being persecuted." This, as she says, is because in Eritrea, the only officially recognized faiths are Orthodox, Catholic, Lutheran and Islam. 
Concerning how she came to the faith, Sarah remembers, "I schooled in a Catholic school and I have always loved singing. While I was 7 I joined the children choir but I was not saved at that time. Later, after we were relocated back to Eritrea I didn't know which church to go to but I knew I loved singing. So I used to go to the Cathedral Catholic church at any odd day and just sing and sing until I met a neighbor of mine who is a born-again Christian and invited me to the church called "Power of Word Charismatic Church" where I immediately joined the church choir as I was attending the necessary teachings by the church." 
She has been in the choir in the Eritrean Community Church (Ebenezer Healing Foundation Church, Nairobi) but she now fellowships at JCC under the pastor ship of Bishop Allan Kiuna. 
To the best of her knowledge, she started music when she was 7 at the children's choir but blossomed well after she got saved in 1999 and now she is pursuing it professionally. She considers herself an Afro-fusion artist. "I try to fuse my cultural bits with any kind of international bits especially Jazz. You could call her an Afro Jazz artist." she adds. 
Sarah fana is working on her debut album titled "Nayereftey Zemen" which means "My Season Of Resting." The album will have 13 songs all of different genres. 
El – Shaddai is the first single off the upcoming album. The song was recorded at Still Alive Records and the video, was directed by Ken Heman of Eagles films. 
Of the video and song, Sarah says, "El-shaddai is the first Eritrean professionally and uniquely done gospel video. I tried to reflect all the famous dances of the 9 tribes found in Eritrea.
Here Is Her Video El-shaddai

Since Eritrean Christians (Pentecostals) are going under persecution and other Christians are dying while leaving the country through the borders, the number of Muslims is growing radically. I believe Eritrea belongs to Jesus and I know that God is seeing our sacrifices to stay in our faith. Most of my attires, dances, hairstyles and the tune of the song belong to the Muslim community in Eritrea. The reason is simple. I AM DEDICATING ALL THE MUSLIM COMMUNITIES IN ERITREA TO JESUS!" 
The song is done in her native tongue of Tigrinya but is subtitled for those that don't understand the language. 
The song is now available as a Ringtone download in Kenya. Dial *699*61# and follow instructions to get the ringtone. 
SARAH FANA ONLINE CONTACTS
FACEBOOK PAGE: https://www.facebook.com/SarahFanaMusic
TWITTER: https://twitter.com/sarahhagos
REVERBNATION: http://www.reverbnation.com/sarahfana
SOUNDCLOUD: https://soundcloud.com/sarahfana