Despite calls by a section of the leaders and members of the public to have the national exams calendar reviewed and the exams postponed. The Ministry of Education has maintained that the exams will go on as scheduled despite the ongoing teachers strike that has seen learning paralyzed in all public schools with strike entering its third week.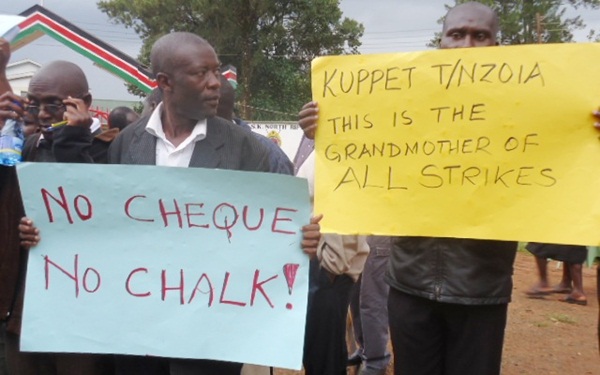 Education Cabinet Secretary Prof. Jacob Kaimenyi said that the examinations will continue as scheduled and should there be changes, the ministry will give its directive.
The CS has pleaded with the teachers to go back to work as earlier on directed by the TSC stating that the lives of innocent children especially those who are to be sitting for their national exams as from next month are at a stake.
However the teachers have refused to heed to the call even as the teachers employer body  threatened to take disciplinary action on them that would lead to termination of their jobs.
Through teacher's union KNUT they have remained adamant on  going back to class until the 50 – 60% pay rise awarded to them in June is paid.
The ruling passed by the the Employment and Labour Relations Court to award the teachers the pay rise  has so far been faced by an appeal by the TSC filing an appeal case and the nullification of the strike.