Bishop T.D. Jakes downplayed the U.S. Supreme Court's decision to end state bans on same-sex marriage during a worship service at his Texas megachurch on Sunday, saying that the issue was not his primary concern.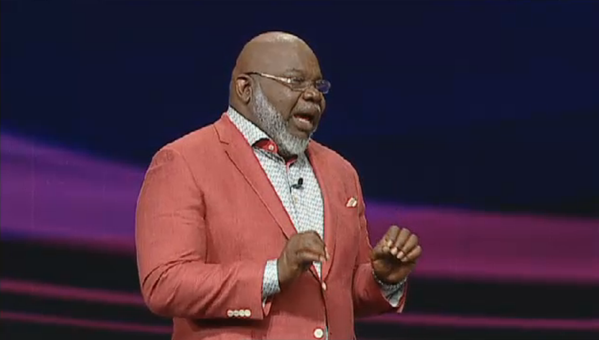 Jakes informed worshipers at The Potter's House in Dallas that he had been "bombarded" by various people wanting to know his thoughts on the Supreme Court's ruling last Friday that state bans on gay marriage are unconstitutional.
"I'm not really as concerned about this as a lot of people are," said Jakes during service on Sunday, according to a video excerpt of his remarks published online. "I'm really not as concerned about it. I think that we should not lose our mind about the world being the world and the Church being the Church. This is not a news flash. The world is gonna be the world and the Church is gonna be the Church, and you have to understand the difference."
The influential megachurch pastor, bestselling author and film producer went on to explain to his congregation that the Supreme Court, as a worldly institution, has one job: to uphold the rights of all Americans.
"The Supreme Court is there to make a decision based on constitutional rights and legalities that fit all Americans. They are not debating Scripture," he said, which led to applause from the congregation.
"They are just not debating Scripture," Jakes repeated. "I guarantee you that they were not in there looking at Romans 1 and First Corinthians this and weighing it against the policies."
"We have bought into all this rhetoric about America being a Christian nation," Jakes said.
He went on to suggest that indeed America has a lot of Christians in it, but the country is governed as a democracy and not by theocratic principles.
"But what we do need to watch is that our religious freedom is also respected and protected so that we don't have to get caught up in the winds of the world and go the way the world is going," Jakes added. "So we need to watch that as we grapple with an ever-changing society, and our society is becoming more and more pluralistic. "
"There's nothing to say that Christianity will be the dominant religion in this country. I hope it will. It's up to us," he added, going on to say that Christians have "stopped witnessing" and "stopped winning souls" and continue to isolate themselves from people who do not "believe like we believe."
Watch video clip below:

Read more Christianpost