Christian singer Don Moen and his friend Lenny Le Blanc finally landed in Kenya yesterday evening as they await a two day concert that will be held in Mbaraki Sports Stadium in Mombasa. The two artistes who have made their first visit in Kenya will be hosted by ICC Church in Mombasa before they grace the Worship at the gates concert on 1st May.

Tomorrow is the day that every resident in Mombasa has been craving for and finally they will experience it when Don Moen  and Lenny Le Blanc will grace the platform set up by concert systems to lead them to worship.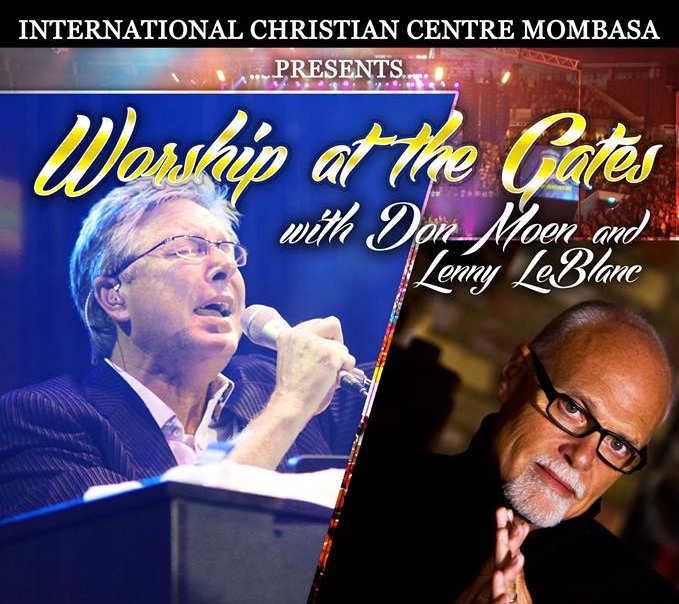 The concert will be a 2 day concert on 1st and 2nd May before another two concerts in Nairobi.
Date City Venue Country
05/01/15 Mombasa KPA Sports Club Mbaraki Kenya
Age restrictions: All Ages. Don't miss this great night of worship with Don Moen featuring special guest Lenny LeBlanc! Tickets available at Keswick Bookshop, Scripture Union Bookstore, International Christian Centre Mombasa or the following churches, MPC, JCC, Crossroads Fellowship, Nyali Baptist Church and the ACK Cathedral. You can also call 0711 443459
05/02/15 Mombasa KPA Sports Club Mbaraki Kenya
Age restrictions: All Ages. Don't miss this great night of worship with Don Moen featuring special guest Lenny LeBlanc! Tickets available at Keswick Bookshop, Scripture Union Bookstore, International Christian Centre Mombasa or the following churches, MPC, JCC, Crossroads Fellowship, Nyali Baptist Church and the ACK Cathedral. You can also call 0711 443459