On Sunday Size 8/Linet Munyali made an appearance on Tukuza gospel show and to many thought that she had come to make a performance as most artistes do when they grace tv studios. To the surprise of many Size 8 shared of how hard and tough it has been for her supporting her mum in her battle with a chronic illness.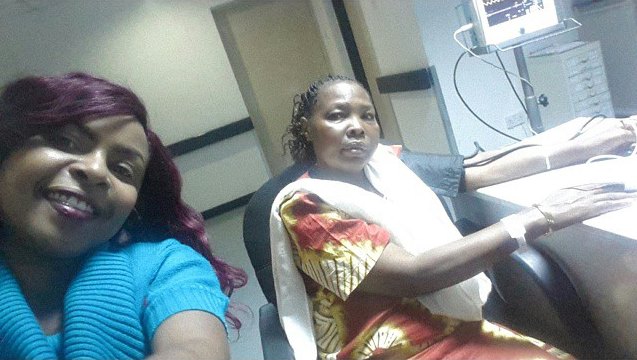 Size 8's mum Esther Njeri Munyali has now been ill for 4 years and it has reached a point where she needs a kidney transplant. In a campaign that started with a post on her instagram page several artistes have come on board to help support one of their own in a time where every coin counts to help pay for the surgery.
"I have reached a point where I am almost broke as most of the money i have been receiving on my events performances have all been directed to support my mother. At times i get so tired with all the pain that i see my mum going through such that i call my friend Lady Bee to at least give some courage to keep going.
People might see us on tv smiling and on events but deep inside we go through some of the toughest moments in life. I had to go public about it as I just reached a point where I couldn't bear it any more. It has been tough. At one time I pay a bill and at a later date I get called and i am told that the bill has increased to hefty amounts.
In the end I believe that GOD is in control and my mum will be well." Size 8 said on KTN show Tukuza.
Size 8 initiated a funds drive that will run for a month till May 4th to help to raise Sh2 million for further treatment of her mum in India.
If you wish to assist her you can contact the following number or send Mpesa to the same :
Send in your contribution to Mpesa
0700032075 (Mary Munyali – Her sister's No.)

.The Deadline for Contribution is on 3rd May.