Pope Francis's plane has landed in Washington DC at Andrews Air Force Base. President Barack Obama was there to welcome him, as is first lady Michelle Obama, vice president Joe Biden and his wife, Jill Biden. Barack Obama, his wife Michelle and their daughters Malia and Sasha walked onto the tarmac of Andrews Air Force Base to greet Pope Francis at the end of the red carpet outside his aircraft.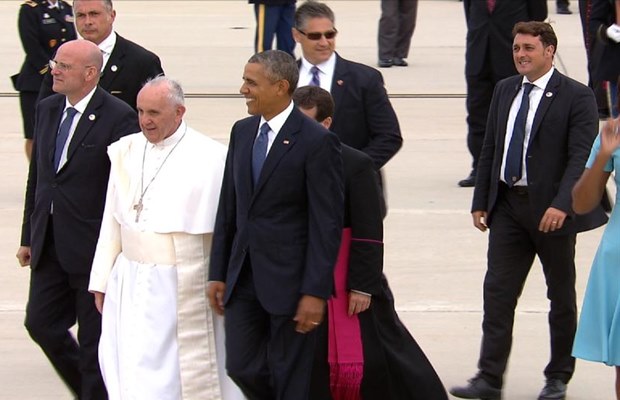 The crowd chanted, "Ho Ho, Hey, Hey Hey, Welcome to the U.S.A."
Obama will roll out an official welcoming ceremony for Francis on the South Lawn of the White House on Wednesday. The pope will then parade through downtown Washington in his Popemobile, with thousands of people expected to line the sidewalks. He'll hold a canonization later in the day at the Basilica of the National Shrine of the Immaculate Conception.
But the first Latin American pope's blessings on America could also contain uncomfortable challenges as he addresses a country that encapsulates many of the ills he has denounced as the head of one of the world's largest religions. Though there are aspects of American life that Francis embraces, he has quickly become known for blunt critiques of contemporary society and global economics, and his criticism — from capitalism to climate change to technology — spans the political spectrum.
"Pope Francis is the ultimate Washington outsider. His priorities are not Washington's priorities," said John Carr, director of the Initiative on Catholic Social Thought and Public Life at Georgetown University. "We think we are the center of the world. We are not the center of Pope Francis' world. He is frankly more comfortable in the slums of Argentina than in the corridors of power."