Obama to land in Kenya between  24th -26th July 2015.

Is the first sitting American President to visit Kenya
He will be attending the 6th Global Entrepreneurship Summit.
His goal is to raise USD 1 billion (Shs.96.5b) by 2017.

It is in line with his policy and diplomatic agenda.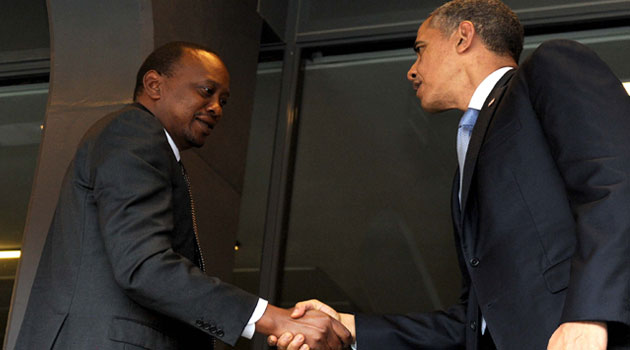 "This summer I'll travel to Kenya and while there I will participate on..oh you, Habari," Obama cracked a joke. "So we are going to participate on the 6th Global Summit  and I will have a great opportunity to meet young entrepreneurs from around the world," Obama continued.
Speaking to a group of entrepreneurs drawn from across the world at the White House on Monday, President Obama said promoting trans-formative entrepreneurship among women and youth around the world over is a critical part of his administration's diplomatic agenda and the sixth Global Entrepreneurship Summit to be held in Nairobi in July, and which he is expected to attend, is in line with that policy.
"There are brilliant young people and hard working women and innovative thinkers in communities all around the world but they haven't been given the chance yet and together we can make sure that anybody whose got the creativity and drive to work hard no matter where they come from, what they look like, what their background is, they get a fair short at pursuing their dreams.
That's what this is about and as long as I'm President this is going to be a critical part of our engagement and our diplomacy with peoples and nations around the world," he said.
"The possibility of attaining the 'American dream' no matter where in the world you are, he argued, is not to be underestimated in attaining global stability in the face of growing extremism. Poverty alone does not cause terrorism or sectarian violence but investments in youth entrepreneurship and education are some of the best antidotes that we have to that kind of disorder," he continued.
Extremist attacks in Kenya is one of the reasons critics of President Obama's decision to visit Kenya as the leader of the free world have given.
"Given America's military actions against the group, why would Al-Shabaab, notorious for the Garissa outrage and for its attack in 2013 on a shopping mall in Nairobi, not attempt to harm President Obama or those in his entourage? Why take such extreme risks?
The United States can presumably mount and afford the massive security phalanx that would be required to keep President Obama safe (guarding President Obama in today's Kenya will cost approximately Sh5.8 billion). But Kenya hardly can," Robert I. Rotberg, author of Africa Emerges: Consummate Challenges, Abundant Opportunities 2013) penned in an opinion piece published by the leading Capitol news site politico.com.
He also cited Kenya's poor track record in combating corruption, led by President Kenyatta and his Deputy Ruto International Criminal Court indictments and Kenya's ethnic politics as other reasons why President Obama should wait to leave office to visit Kenya.
However Obama will not visit Kogelo village  as many Kenyans are expecting. "This is not the time for a Kenyan-descended president to visit his ancestral home. Perhaps a better itinerary would take President Obama to Liberia, where Ebola is finally being vanquished; to Botswana, where corruption is less of a concern or to Nigeria, Africa's largest country, where a brand-new President Muhammadu Buhari has pledged to end corruption," Rotberg opined.
But despite this and similar opposition to his planned visit to Kenya in July, President Obama's latest remarks make clear that it remains firmly on the agenda.
The global summit will be the first one to be held in Sub- Saharan Africa and in Nairobi. Obama will also hold bilateral talks with President Uhuru Kenyatta. His coming will be a great boost in the Kenyan economy moreso the tourism sector which is expected to receive many tourists from all over the world.