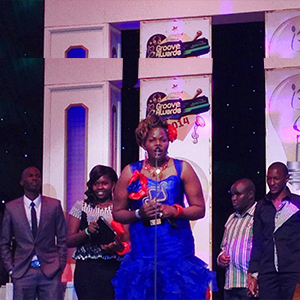 Award -winning Nyanza gospel artist Christine Otieno shared on reason why she had  decided to make a step of going back to school after 20 years . 
The singer who is well-known for her great song "Sonko Wa Masonko" who studied upto class 8 talked more on her decision of joining high school and why she is proud of herself despite getting a mean grade of  D+ in  her KCSE.
The thought that she only schooled up to Standard Eight, she says, made her ashamed of herself any time she was in a studio where "very learned" people were also guests.
For starters, Ms Otieno is the woman who was voted Best Artiste of the Year for Nyanza region in 2013 and 2014 at the Groove Awards.
She is also the artiste who made headlines in March this year with news that she had scored a D+ when the 2014 secondary school examinations were released.
"Yes, it was a D+, and I am proud of it," says the 41-year-old.
"At first it made me doubtful of my future as I had targeted a C. But my friends encouraged me to accept the outcome. One of them was Mrs Ida Odinga (the wife of Opposition leader Raila Odinga) who called and told me not to be discouraged," she adds.
Now attending a bridging course at the Kenya Institute of Management before she can enroll for a diploma in business management, Ms Otieno can be a poster girl for Kenyans who are taking up private tuition to make up for lost chances in their quest to complete the 8-4-4 education system.
She represents a growing number of Kenyans who attend classes in private institutions to meet their desire to get an education then register as private candidates in national examinations.
Ms Otieno says that lack of fees and unwillingness by her family to educate her was the reason she discontinued her studies in 1993 after sitting the Kenya Certificate of Primary Education examination.
Having scored a total of 346 out of the possible 700 marks, she had secured admission at Nyakongo Girls in Siaya County.
"Using the money I had made from my business, I was able to buy a mattress and other basic items. I expected my parents to pay fees for me," she says.
But rather than provide fees for her to join secondary school, family members identified a man to marry her.
"He was bespectacled; with one blind eye. I was told he was to take me to Nairobi if I was willing to be his wife. I wasn't ready for marriage and, broken, I stayed outside my grandmother's house for a whole week. I even contemplated suicide," she says.
Ms Otieno had been living with her grandmother all her life as her parents separated when she was eight months old. The parents re-united more than a decade later but she refused to go back to them, preferring to live with her grandmother.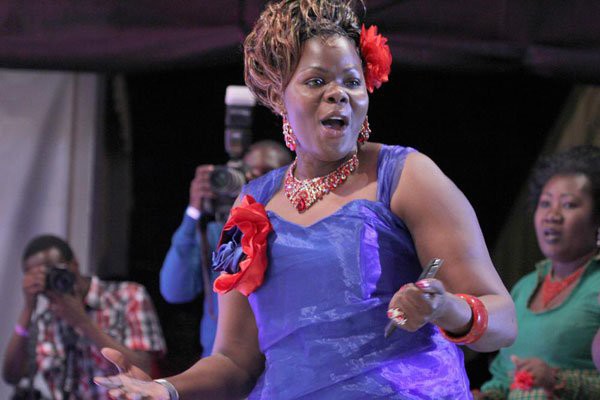 Having refused to get married to an elderly man and with her dream of joining secondary school now fading, Ms Otieno ventured into business.
"My grandmother gave me Sh10 and told me to continue with business like I had been doing since I was in Standard Three. She asked me not to harm myself because God was on my side," she recalls.
While in primary school, the girl would leave class every afternoon to go to the market to sell items ranging from firewood, vegetables to omena to get money for food. This was now a chance for her to go into business fulltime.
"Using the money, I bought a tin of omena, which sold like hot cake. The next day, I bought two. It went on till a time I was buying my omena stock in sacks," she says.
Mid 1994, with her omena wholesale business thriving, she moved to Nairobi where she trained as a tailor through apprenticeship during which time she met her future husband.
She got married in December 1994 and ventured into selling cereals and second-hand clothes and later dealing in car paint.
Later on, she developed an interest in music after what she describes as a revelation through a dream. She released her first album in 2006.
It is her music and the recognition she got that thrust her onto the limelight and finally pushed her to go back to class.
"I would be called for many interviews. I kept wondering: these people (media personalities) are taking me places yet they do not know I'm not learned," recalls the mother of six.
"According to the way I was speaking, from my looks, nobody would think I did not go to secondary school. It would make me feel guilty. When I would go for an interview, guilt would take the better part of me because sometimes I would be put in a panel with professors. Someone introduces himself as a professor; you introduce yourself as a musician."
Her return to class began by taking a certificate course in  computers at the Kenya Institute of Professional Studies.
"I decided to take a computer course because my business needed feeding information into a computer. With the knowledge, my staff couldn't cook any figures," she says.
That same year, she decided to study business management but the institute she went to demanded a Form Four certificate, which she didn't have. That was when she made the decision in 2013 to enrol at a private school for adults — taking two years to complete a syllabus that ordinarily requires four years before sitting for the Kenya Certificate of Secondary Education (KCSE).
"I would attend classes every evening and it was tough for me. To ensure I covered all that was needed in that short time, I hired a tutor to teach me at daytime. I sat KCSE in 2014," she says.
Scoring a D+ meant she could not enrol for a diploma whose entry marks is a C-(minus). She is now attending a bridging course.
"I want a diploma because I'm not going to be employed. I just want to know how to manage my businesses," she says.
She also enrolled for a theology course last September. She obtained a certificate in Bible and Theology from the Nairobi Pentecostal Bible College. Further, she is pursuing music classes at Daystar University.
Christine has released a new video dubbed "Olemo" a luo word which means "Fruit" .
Watch Video below:

Source: Nation.co.ke