GOSPEL PODIUM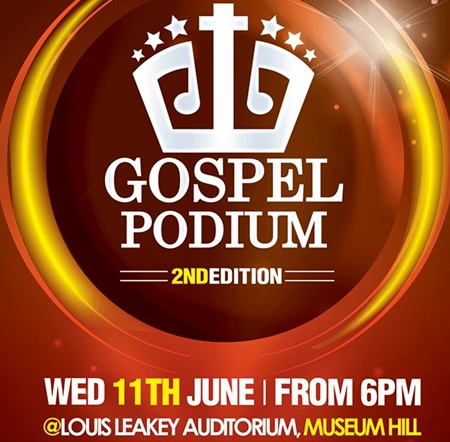 Gospel Podium is a monthly event dedicated to Launching New music as well as celebrating the Gospel industry players. Organised by Sakata Media, a Kenyan based production company that has capitalized on audio, video and TV production, saw the need of coming up with such an event to help Gospel artistes get to the lime light.
Just as the name suggests, it Gives platform to artistes to showcase whatever new they have (Can be that the artist is new, he/she  gets the platform to launch themselves. Also the artist may not be new but he/she has a new video or audio hence qualifying tobe given the platform).
Benefits to the artistes…
It's only at Gospel podium where an artist gets the opportunity to meet all the Industry players at once. (These are fellow artistes, Gospel TV/Radio presenters, GospelDjs, Producers, Promoters etc…)
The most interesting thing about this is the fact that these various personalities are the audience at Gospel Podium.
They are meeting the right people in the Gospel fraternity, people that are able to show them the right way to go in terms of production quality as well as content delivery.
They get to mingle with fellow Gospel artistes, enabling them to learn more from each other i.e. ups and downs in their various Gospel Music Ministries.
They get the rare opportunity to explain themselves to the right people, every show-casing artiste is given time to introduce themselves and expound their various titles to the audience.
It's advantageous since the presenters, Djs and TV content developers present at the meeting get to know these artistes and their music beter, enhancing their chances of getting airplay.
Their Music distribution and marketing is also enhanced, a table is normally set for media gifts.., where they drop their albums or singles for Media personalities.
These and so much more helps the artistes excel in their Music Career as Gospel Musicians hence the Goal of Gospel Podium.
It was launched on 8th of May 2014, and the 2nd Edition is here again this month on the 11th June 2014 at Louis Leakey Auditorium, Museum Hill. As from 6pm-9pm.
Cocktail and Red-carpet at exactly 6pm paving way for doors to open by 6:45pm. 8 showcase artistes and 4 surprise performances.
It's an event you don't want to miss.