Televangelist Pat Robertson is one man who has been on the lips of most Kenyans after his remarks of "Towels in Kenya could have AIDS'. An uproar was what happened next and later on CBN took to their face book page to apologize for the error made.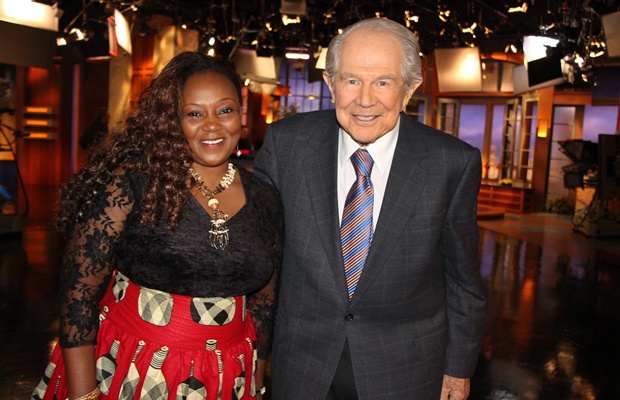 Princess Faridah who is currently away at the USA for an interview on CBN shared reasons why she feels Pat Robertson should be forgiven.
Read her statement :
When I arrived in America this week, I was not aware of the controversy surrounding a remark Dr. Pat Robertson made last week on "The 700 Club" television program.
On the same day I first visited the CBN studios in Virginia Beach, Virginia, The Christian Broadcasting Network had already apologized for the misinformation and deleted the comment from it's online archive. Here is the apology published on "The 700 Club" Facebook page which is followed by more than a million online subscribers:
"On last Thursday's The 700 Club broadcast, Dr. Robertson was responding to a viewer's question about a mission trip to Kenya and getting Ebola. In his answer about the health dangers posed by such a trip, Dr. Robertson misspoke about the possibility of getting AIDS from towels. CBN recognized this error immediately and removed that statement from the online archive. CBN apologizes for any confusion."
Many people are unaware of how Dr. Robertson is constantly scrutinized and immediately denounced in the media for anything he says that could be incorrect, politically offensive or misunderstood. Sadly, none of the media outlets who eagerly spread news of the unfortunate remark, with the purpose of condemning CBN, have followed up with news of his official apology. Nor are they likely to do so. Apologies don't sell newspapers or go viral on the Internet.
I am not defending Pat Robertson because I don't believe that is my responsibility. However, when I consider the millions of people whose lives have been blessed through the ministry of CBN, Operation Blessing, Orphan's Promise, Regent University and countless hours of worldwide programming offering hope to hurting people, this particular mistake seems minuscule and a poor reason for damning a good man who has done so much good in his 84 year lifetime. We all have elders who occasionally make incorrect or ignorant comments. That is a simple fact of growing old.
But how many people will publicly condemn and permanently silence their grandparents or other relatives for one wrong statement, especially when there was no evil intention of causing pain or hurting innocent people?
I am personally thankful for the grace and forgiveness granted me by my Heavenly Father for things that I have done wrong in my lifetime. I hope I will always extend that same mercy and blessing to good people who want nothing more than to share the love of God with as many people as possible.