Kenya national volley ball team yesterday 20th June , fought the fight of their lives to beat the mighty Algerian team who were leaving nothing to chance . The win  made sure that Kenya walked away with their ninth continental women volley ball crown in a match that was graced by handful of Kenyans at the Safaricom indoor arena.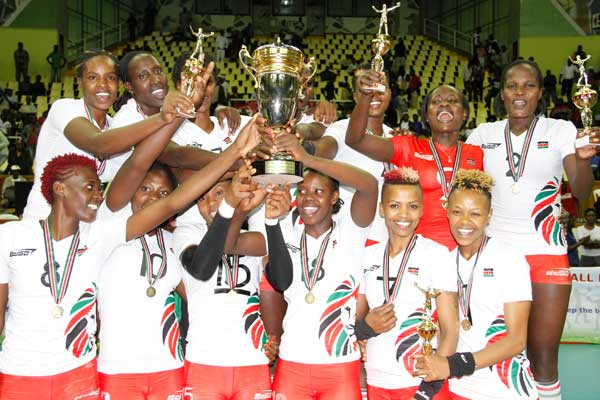 Our team beat the Algerians 3-0 of 25-17 , 25-21 and 25-18 scores, a result that automatically qualified them to their 3rd qualificationto the FIVB world cup set for September.
Evelyne Makuto was voted the tournaments most valuable player (MVP) ,Janet Wanja (best setter) , Ruth Jepngetich (best blocker) , and Elizabeth Wanja ( best libero).
"we fought hard for all this, God is great." Evelyne Makuto expressed her excitement after the match.
The 82 minute finale was attended by  nearly 7,000 Kenyans in the arena that should hold 5,000. CS for sport Mr Hassan Wario was also present in the match.
This win now makes Kenya volleyball team to hold the continents record.