Kenyan Tv host , Janet Kanini Ikua, has finally left hospital after weeks of treatment and battling  a severe heart condition .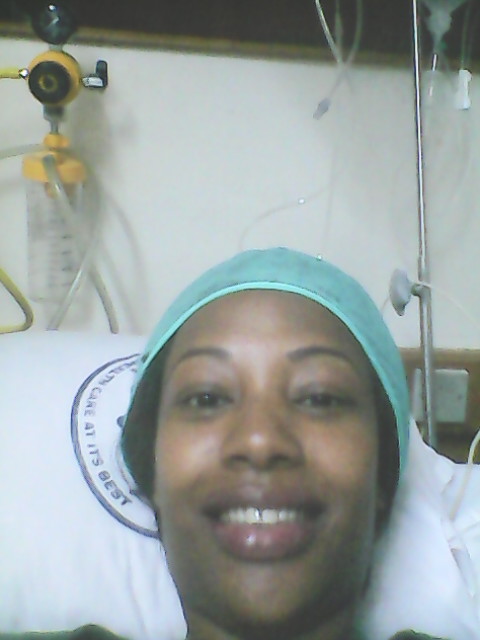 Janet who is a host of N-Soko Property Show had been admitted in High Dependency Unit (HDU) on June 15th 2015 after doctors discovered a blood clot in her heart. The clot which had started on one of her legs had probably gone up or a new one had formed .
She captioned this on her Facebook page:
"I have a kichungi (kisungi) inside me.
No, not the colorful plastic ones that sieve tea. Mine consists of a crushed metal filter that was placed inside my inferior venacava blood vessel last night. It blocks blood clots passing through from my lower limbs to the upper danger zone of heart, lungs and brain. Not that I ever intend to have more clots forming – no thank you! I'm done with that drama!
As with most events since I was admitted in the High Dependency Unit 9 nights ago, last night's procedure felt like it was straight out of a movie. I was wheeled into the Catheterization Lab in a wheelchair. The white space was neatly segregated into cupboards containing medical equipment of varied sizes, including a huge Fluoroscopy machine that I've only seen on telly. There are only 6 in Kenya. I was going to watch the procedure on its screens. Fascinating! Then I was given a skull cap to squeeze my weave into before lots of sterilization processes begun. I got a jab of local anaesthetic before doc professionally went through my femoral vein to access my inferior venacava that ferries blood up towards my heart. The screens showed my spine and kidneys….it was really strange! But it made me respect medics even more because the human body is a complex thing to navigate! The best part is, I wasn't scared. God has already proven that I will not be a victim to this condition, and so I calmly asked Him to make the doc's and technicians' hands steady, their minds focussed and their eyes sharp.
15 minutes later I was done. Pressure was exerted on the entry point to ensure that I don't bleed, since I'm on blood thinners that make bleeding a risky affair. Then they rolled me back to my room on a hospital bed and I was given strict instructions to stay on my back till morning. That's probably why I'm so sleepy today… But on the brighter side, doc is OK with my progress so I'm going home today!!!!! (Shangwe na nderemo alilililiiiiii!!!!!) Oh I can't wait to hold my baby boy and girl and listen to their endless chatter, while reassuring them and hubby that Mama's here to stay!
Wishing you all a Wonderful Wednesday smile emoticon"
We thank GOD that she was healed.