Shiru Wa GP

has gone through one of the most trying times in her life as a christian and as a mother. Having been blessed by a child and later losing him after a month

Shiru Wa GP

would really need our support now more than ever.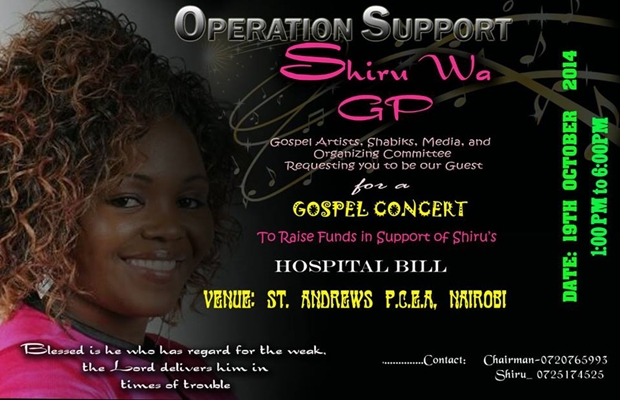 Shiru Wa GP was recently admitted in hospital together with her other new-born child which has led to the rise of the hospital bill to about Ksh. 2 million shillings. Speaking to Shiru Wa GP herself she said that there will be a concert held for the purpose of offsetting the bill that has been a major burden for Shiru Wa GP.
Shiru Wa GP's other surviving new-born, Esther as per Friday was still admitted at Mp Shah and she has been going there to see her as she recovers.
The fund-raiser had been set up but news just in  reveal that Kameme Listeners contributed Ksh 3 Million Shillings for her.
Now there might be no need for the fundraising concert.
GLORY TO GOD.