The wait is over; the first ever social gospel event that will cater to all gospels lovers and gospel celebrities is here, The Gospel Hook-Up. Gospel hook-Up will be a place where all fun loving Christians will get together, mingle, network, have lots of fun and basically just let lose.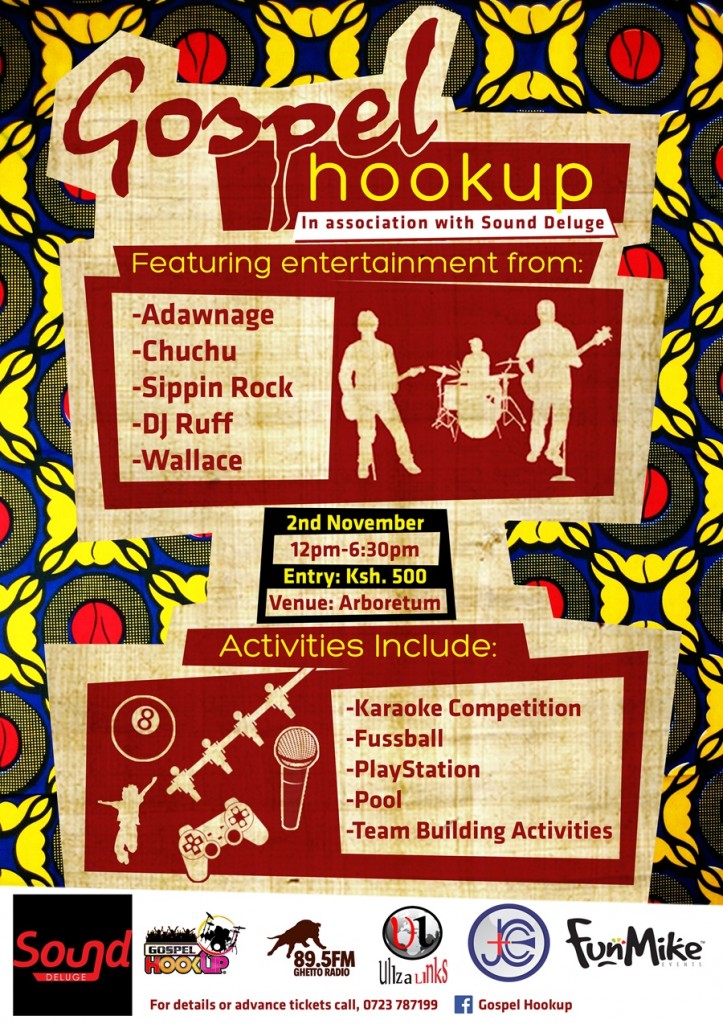 We have seen many gospel personalities caught out in places that have been deemed to be unfit for their ministry so this event is will cater for such kind of artist who just want to have a good time but lack the place to do so and also to all vibrant fun loving Christians.
The Gospel Hook-Up social event will also reach out to the vast majority who are un-churched using the language they understand best which is music, fun and hook-ups (mingling).
Apart from having fun, the event also hopes to effectively bridge the gap between company owners, employers and the potential employees. I believe we have so many young people who would attend such an event just to boost their chances of getting employed and that is why we have come up with team building activities to help people mingle as they have fun.
The event will also make sure that everyone who attends will not leave empty, but will leave well nourished and through a worship in the wild experience at the tail end of the event that is from 5:45pm-6:30pm.
The first event will go down on the 2nd of November 2014 at Arboretum Grounds from 12pm-6:30 pm. The event will be headlined by the popular Adawnage band who will provide live quality mature music together with Chuchu, Wallace and Sippin Rock.
They will have games like pool table, Fussball, PlayStation 4, Poker, Karaoke competition for friends and team building activities among other things.
The guest artists who will attend the event are MOG, SOC, Holydave, Ruth Matete, Ambassada, Hope Kid, Benachi, Dk, and Mr Seed with many others.