Not so happy when a newspaper shutsdown but it happened on May 21st 2014 when Nairobi Newspaper decided go off the market. This was caused by little advertising on the newspaper with little sales the official press release stated.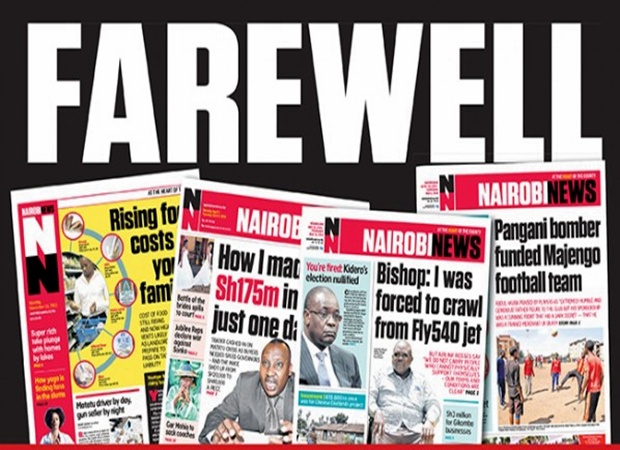 The newspaper was launched by NMG after another  Nairobi newspaper   had been launched, but it now seems that it will no longer be on the streets of Nairobi.
On their official statement they stated.
Today, May 21, 2014, we say farewell to you, dear reader.
This is the last issue of the newspaper which you have come to love.  It's the final, emotional step in our short but action packed life. Good ideas are driven by inspiration, but their ultimate survival is determined by business. Our brave efforts at breaking new ground in Kenyan journalism have foundered on the rocks of crippling economic times.
Little advertising and slow sales growth at a time of rising costs made Nairobi News survival impossible.
November 20 last year seems like only yesterday. Such has been our whirlwind life of enterprising journalism – improbable exposes, dramatic pictures and a refreshing menu of human interest features telling you the story of the city.
With our captivating blend of simple writing and bold headlines, we reached out to the ordinary Nairobi resident. We spoke to ordinary housewives and adventurous teenagers, and we brought new energy into the reading choice of Nairobians proud of their home city.
Thank you for standing by us and keeping the faith. So long, we are gone but Nairobi lives forever.
Adios Nairobi News.