The day that we would all say our final last respects to our brother Peter Kahura Kaberere came on Friday 11th April 2014.  Kabz was laid to rest 5 days later at Lang'ata Cemetery after he met his death at his car wash on Sunday 6th April.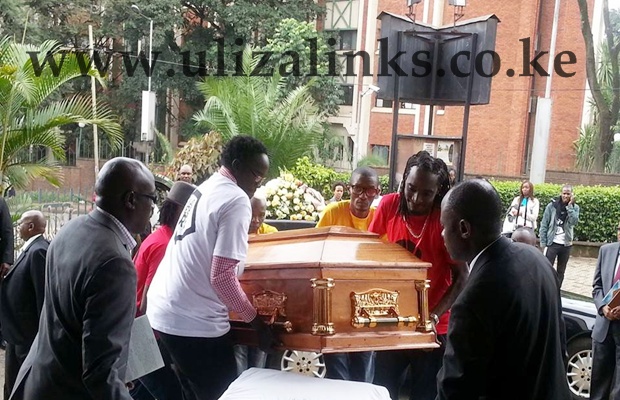 We will miss him for his heart of worship and most definitely for his great zeal to serve. These were some of the words that were echoed at his Memorial Church service at Citam Valley Road where Hundreds came to give the final send off to the brother who we once shared a meal with.
Among others who attended the Memorial and Burial service include : His Family, Daddy Owen, Bishop Kiuna , Kathy Kiuna , Bishop Teresia Wairimu , Mc Jessy , Big Ted , Jalang'o, Boniface Mwangi , DJ Mo, DJ Sadic, Dj Soxxy , Deejay Celeb , DJ Sanch, DJ Touch , Grace Mwai , MOG, Mr Vee, Wilbroda , Jimmy Gait and Gloria Muliro.
The service was a quick one, as Christian believers know that death is a  stage in life and after it theirs eternity.  This only took period of an hour as Kabz was laid to rest later in the Afternoon.
Emotional it was as friends and family started to tear when the casket was lowered and this is the point where it really kicked. It was really sad but hopeful at the same time as Kabz lived a large life in Christ as his wife Njesh had shared a day earlier.
We will miss him , but the thing that we should learn from Kaberere is that we have to live right and be the true servant as GOD wants.
RIP Kaberere.