Dr. Myles Munroe

who has authored over 40 books on Personal Growth, Leadership, and Success Principles will be live In Kenya in October for the

Miles Night.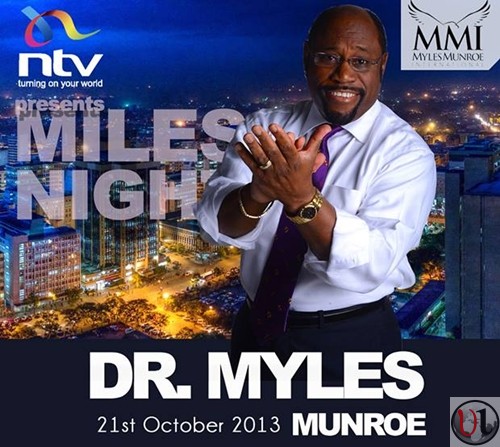 To just mention Dr. Myles is a Government Consultant, Professional Coach, Mentor, Motivational Speaker, Corporate Trainer, Advisor, Bestselling Author and a media host.
Fifteen titles have made it to the bestselling list which include; "In Pursuit of Purpose, Understanding Your Potential, Releasing your Potential, Maximizing Your Potential, The Spirit of Leadership, The Power of Vision, Benefits of Change, Becoming a Leader".


Dr. Munroe's vision is, "To transform Followers into Leaders and Leaders into agents of change and the maximization of individual potential.
The event dubbed "Miles Night" will be hosted on October 21ST 2013 at the Safari Park Hotel and the charges are Ksh.15,000/= 6;30pm to 11.00pm.
Get your tickets on ticket sasa.