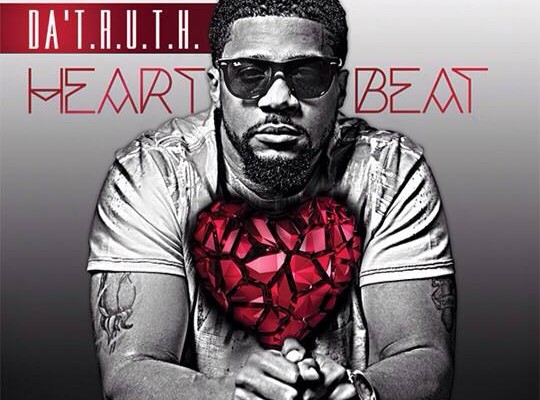 It's only been a year since we've heard quality music from this lyrical man of God and now, Emanuel Lambert Jr. aka Da' T.R.U.T.H. jumps back on the Gospel scene with his latest project Heartbeat.  With several albums under his belt, several gospel awards and thousands of fans, Da' T.R.U.T.H. keeps his mind focused on doing God's work of educating the listeners of the good news of Jesus Christ.   He collaborates with other artists in the urban gospel arena and keeps the creative juices flowing throughout the whole album.  
Gray – The album opens up with an abstract track and Da' T.R.U.T.H. speaking on the present controversial issues we are face in our daily lives.  As black & white as the issues are there is always something keeping the issue grey with keeping God out of the picture.  The beat and flow change up half way through as Da' T.R.U.T.H. starts to go in hard but the stops which forces you to get ready for an album of diversity. 
Press – Both Da' T.R.U.T.H. & reggae gospel artist Papa San heat up the track.  The title says it all. Both artist trade lyrics expressing the fact that although life is hard they will continue to press forward and trust in God for everything.  
Loud & Clear – Da' T.R.U.T.H. gets assistance from Capital King artist Jon White and Tedashii in making sure that his message is heard by all.  They hit the audience from God's perspective letting us all know that we may fall back on God but he is always there for us.  The production is radio pop friendly but the lyrics.
I Made It – A trap styled production with heavy base and a poppin' snare accompany the rappers on this track as they stand strong and mention how they may have been knocked down by the industry, family etc. but got up and are making it happen for themselves all by God's grace.  This one is sure to bump in any ride. 
Promises – Isaac Carree croons over the chorus on this R&B track letting listeners know that you have to hold on, leave it in God's hands and that everything will be alright.  Da' T.R.U.T.H. gives lyrical hope with lines like; "I can tell ya' sick of waiting, I can tell ya' sick of holdin' on anticipating,  it's not the time to get impatient but the time is taken, look at the character he's shaping?  And take it light! 
Come Home – You can call this prodigal rap!  Da' T.R.U.T.H. is joined by the crew (ZG, Prayz1 and TJ Pompeo) to let those that went away from the Christ that you can always come back and His arms are open to accept you back into the fold.  Lyrics like "You flipped the coin but never knew what it was going to cost……. Some of y'all want to come back home but you never want to see the saints b/c you know that God is gracious but some of His people ain't. man it gets so complicated, you just want to receive His grace, humble yourself pray only seek His face and you can come home! 
Welcome Home – This is the perfect follow up track to Come Home.  A soulful sample and head noddin' hip hop track bounces with Da' T.R.U.T.H.'s vocals as he shows love to a friend that's home from doing 'time' or just some one that was out in the world and realized in Christ (home) is the best place to be.  James Fortune paints the picture and tells the story of the Prodigal son to hit home.  No judging, just acceptance. 
Standing O – TJ Pompeo lends his vocals again on another radio friendly groove with Da' T.R.U.T.H. spittin' reality rap about the come up in the gospel rap game while shouting out and giving props to the several other gospel rap artists he's met along the way. 
Mixed Bad – The way the head noddin' beat and DJ scratches that start off the track let you know you're about to hear hard hitting battle style lyrics and that's exactly what happens!   Da' T.R.U.T.H.'s verbal skills are not to be questioned after listening to this one.  Knowing that this is music with a purpose as he spits from the heart and not just to live in arrogance makes it that much easier to listen to! 
Compare – Songstress Alexis Spaight graces up with the chorus on the track as Da' T.R.U.T.H. goes hard on those that get caught up in making wrong decisions.  Letting them know you can always come back to the Man upstairs to get your life right.  Lines like:   "God is a present help in a time when you need him,  when you messing up, but instead of fessing up, spend a lot of time trying to dress it up. Trying to seek that approval, but God don't win gotta do something It's all the same to Him if you're tore down In His eyes you're still beautiful.  Plain and simple, God's always there." 
Bully – Da' T.R.U.T.H. ain't having it! He plays lyrical defense to those feeling that they can bully Christians for feeling the way and expressing our feelings on what are seen as negative behavior in the world.   "Sick a walking on eggshells all this political correctness, we call it abomination, y'all call it progressive, when we call it evil, y'all try to protect it. Y'all don't want us to judge others want us to shrug and follow your directions." 
Change The World – Chris August assists in Da' T.R.U.T.H.'s vision to change the world for the better.  He spits verses for each person to play their part to help make a change. 
Heartbeat – the title track for the album comes straight from the mind and heart of Da' T.R.U.T.H. to the pen and paper he wrote these lyrics on.  He expresses himself well on the roadblocks society places for the righteous to try and spread the good news.  But lines like "Heart can be deceitful but it's beating for the people and it's bleeding for the heart of God's will." Let's you know he is still fighting forward with God's will in mind. 
Rising Sun – is another group cut with ZG, Prayz1 and TJ Pompeo.  Each member breaks down the fact that life is hard but we must continue to have faith and trust in the Lord for our help.  The chorus "We are warriors even though we have scars…………. when winter comes and the rain falls I look to the horizon you will come at the rising sun" gives hope to a better tomorrow. 
Hope (Remix) –  No lie aim High, In Jesus Christ, where our hope lies.  We all want it… we all need it!!!! In Jesus we got that HOPE! – nuff said.