Uganda – Last Sunday, relatives and friends of two families gathered in Butamira Parish, Buyengo Sub-county in Jinja District to conduct a marriage ceremony.
The ceremony was not a usual one though; "the bride-to-be" was a six-month-old baby girl and "the groom-to-be" was a three-year-old boy.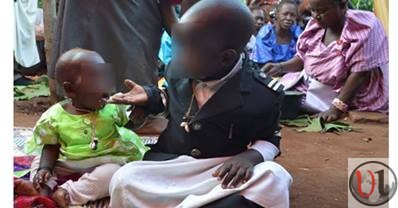 Amidst ululations, the visibly ignorant children were given coffee beans and cowrie shells as a symbol of a covenant that binds the two for life. They were also given small pieces of millet bread mixed with sim sim to feed each other as a symbol of love and care.
The two children had been betrothed to each other. Betrothal is an arrangement of marriage of two people in the future.
According to the two children's parents, the betrothal was pre-ordained and predicted by the spirits.
– Daily Monitor