OKLAHOMA – It's a moment that supporters of a Ten Commandments display have worked fervently to prevent — but to no avail. A granite monument commemorating the biblical laws that has sparked controversy since its installation on the Oklahoma Capitol grounds was being removed late Monday and will be transported to a private conservative think tank for storage.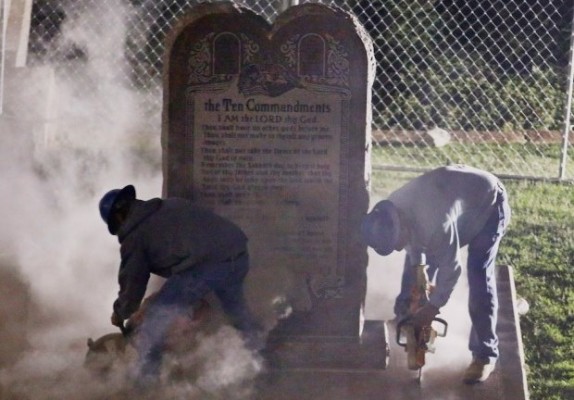 Just one week after officials with the Capitol Preservation Commission voted 7-1 to ax the Ten Commandments display from public property, a contractor the state hired began removing the monument shortly after 10:30 p.m.
The dramatic conclusion comes after the Oklahoma Supreme Court's decision in June that the display violates a state constitutional prohibition on the use of public property to support "any sect, church, denomination or system of religion."
The Oklahoma Highway Patrol had increased security around the monument earlier Monday, and barriers were erected to keep visitors from getting close to it. Estus said the decision to remove the monument under the cover of darkness was made to avoid disturbing workers at the Capitol and to keep protesters from demonstrating while heavy equipment was being used to detach the two-ton monument from its base.
"We wanted it to be done as quickly and efficiently as possible, and doing it at night gave us the best opportunity to do that," Estus said. "The Highway Patrol was also very concerned that having it in the middle of the day could lead to having demonstrations of some kind."