Biblica Motor Maze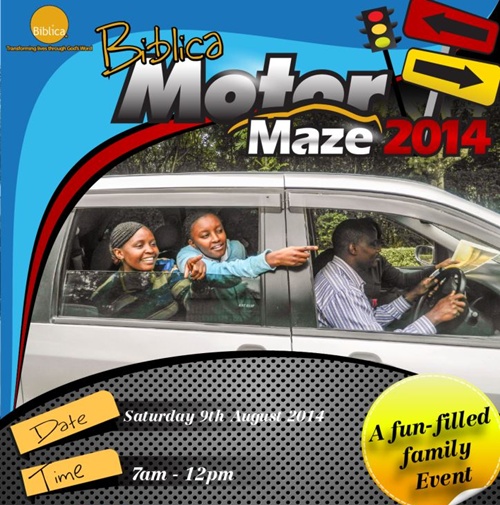 The 3rd annual Biblica Motor Maze will be held on 9th August 2014 from 7am – 12pm.
About
The Biblica Motor Maze is an exciting, engaging, fun-filled fundraising event held in Nairobi and hosted by Biblica Kenya.
As a participant you'll be given a map/clue-sheet with directions to enable you navigate through a maze around Nairobi.
Along the route, you will be required to collect all the clues; complete all the tasks and get to the finish line in the shortest time possible.
You will also find checkpoints along the route where you will be given special tasks to complete before receiving the next set of clues.
How to participate
1. Register in car loads at KES 5,000 each
2. Collect all the clues provided and get to the finish line in the shortest time possible.
3. Win exciting prizes!!
NB: Flag-off is at exactly 7am. There will also be a Treasure Hunt @ 1,000 for adults & 500/- for kids.
The cause
All proceeds go towards supporting our Reach 4 Life Program. Reach 4 Life is our response to the HIV/AIDS epidemic. It is an abstinence program which gives young people straight forward instructions on HIV/AIDS and sexual purity, an evangelistic message, and help in making positive life changes.
Youth aged 15-24 are the most vulnerable to HIV infections and it is clear that the future of HIV in Kenya will in large measure be determined by success in preventing new infections among the millions of young people in this high-risk age group.
We have been running the program for the past 7 years and have distributed 280,000 Reach 4
Life resources in both high schools and primary schools in Kenya.
Gather your family or crew of friends to participate and together, let us "seal off a generation from HIV/AIDS."