Gospel artiste Bahati revealed how he struggled to record his single Mama in early 2013 when he had a dream of doing a thanksgiving song to his late mum. Bahati shared this as he launched his new music studio that is called EMB records in Eastlands meaning EASTLANDS MOST BELOVED RECORDS.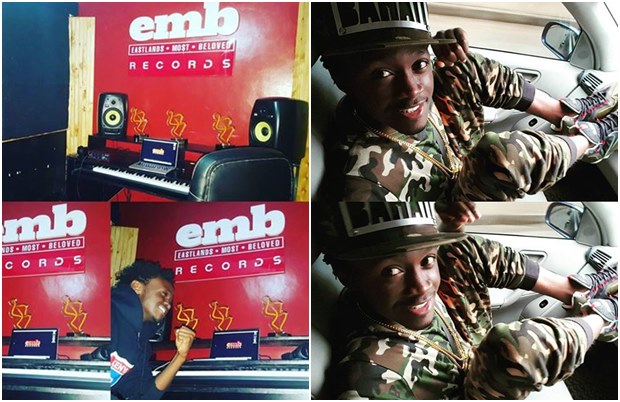 Through a note the artiste shared with his fans on what his dream had been :
"My Plan was to do it in 2015 Maybe; this when I saw my Self becoming a Star and Capable of Paying RKAY Mwanabujaa for a Studio time. I remember the Desire I had to work with this Producer & was so happy when my Brother MR SEED got a chance to Record in his studio because 25,000 was too much for Us to pay for studio time.
I know he doesn't like this Publicity but I'd like to thank C.E.O CHARLES OTIENO (Standard Group) for making my dream come true connecting me with RKAY who Recorded for me the Song MAMA which introduced me as a National Artist. Just know am forever greatful coz since that day My life has not been same again. And One of the things that have been in my Heart is how God can raise other BAHATI'S from the same Background have grown in POVERTY, LOW SELF ESTEEM,HARDSHIP & LOSE OF HOPE.I know Many are Artists with a Dream of getting the Best Quality Musically/Artistically but not in a Position to Pay this Great Producers Just like my Case was.
It's has been in my heart that I should Mentor and help Artists who Tomorrow will change the History of where I come from THE GHETTO… THE EASTLANDS. It's My desire that when we talk of EASTLAND some Years to Come POVERTY should not be the first Image on Our Minds.But Instead TALENT,INNOVATIONS, EMPOWERMENT and Where Stars are Born.
And My First Step is Trying to Create the Best that has not Been in the East. Because I was Helped to be the Position I am Today…With the Little that God has Blessed Me with I opted to Start a MUSIC STUDIO that will help me Mentor and Support Artists and Talents from Different parts of this County.
I desire to Mentor someone that will achieve Greater things than I have Today. I might not be in a Position to help everyone but I'll be here to make Sure this Production House Gives every Artist the Best Quality with Professionalism No Matter You're an UPRISING ARTIST OR ESTABLISHED with a Reasonable Studio Fees to help Everyone Archive their Goals and Dreams. In Respect and Honor of where I Grew Up…. In Respect of the Support and Massive Love you've shown me since the First Day… I have Named it ‪#‎EMB_RECORDS‬ EASTLANDS MOST BELOVED RECORDS"