Arsenal 0 – 0 Manchester United

: February 12th 2014

The Emirates Stadium crowd was left frustrated on Wednesday night after Arsenal failed to beat Man Utd at its worst with the game ending on a stalemate.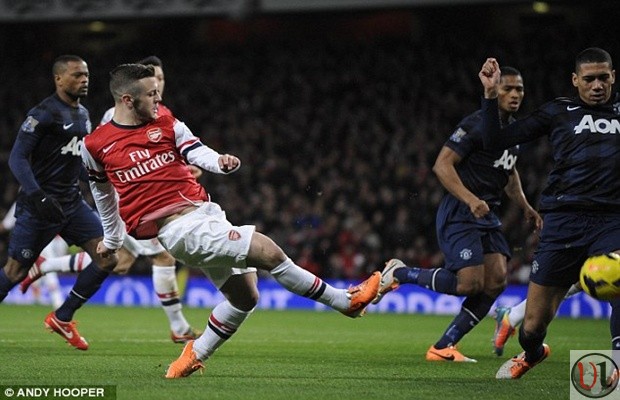 The hard aspect for United, and David Moyes, to take was that while a draw was much better than the worst case scenario, they slipped further away from fourth place. A win for Liverpool increased the gap to United in seventh to 11 points and Tottenham's victory against Newcastle meant that they too moved further ahead. The problems get worse for United in that respect. Defeat would have been unthinkable.
Since Arsenal opened their new stadium in 2006, United have won three of the nine games they have played there, including that Champions League semi-final second leg in 2009 in which their superiority meant a 3-1 humbling for the home team. Arsenal have won three of those nine games and tonight was the third draw. It was very far from a classic and it said plenty about how both these sides are stuttering.
United are stumbling when they need to pick up momentum. Arsenal have been spooked by that 5-1 thrashing at Anfield and are struggling to re-establish themselves. "A little bit nervous" was the assessment of his team by Arsene Wenger, in the light of the result at Anfield. His team are still in the title race but they are showing vulnerability when they should have been capitalising on Chelsea's failure to beat West Bromwich Albion on Tuesday.
There was a frantic ending although it was a long way from those days when these two sides divided up the spoils in English football at the turn of the millennium. By the end of the game United were forced to cling on as Arsenal, the better team on the night, whipped up a storm of attacks to try to win the match.
At the other end, Robin Van Persie had the opportunity to nick a victory for United with a header that Wojciech Szczesny saved well. United defended better but their attacking fluency is still absent. Moyes stayed with the same back four that had creaked badly at times against Fulham three days earlier. They could not afford the same lapses in concentration.
– independent