After surviving a horrific shooting rampage that killed her family, 15 year old
Cassidy

Stay credits angels for protecting her and says happiness can be found in darkest of times.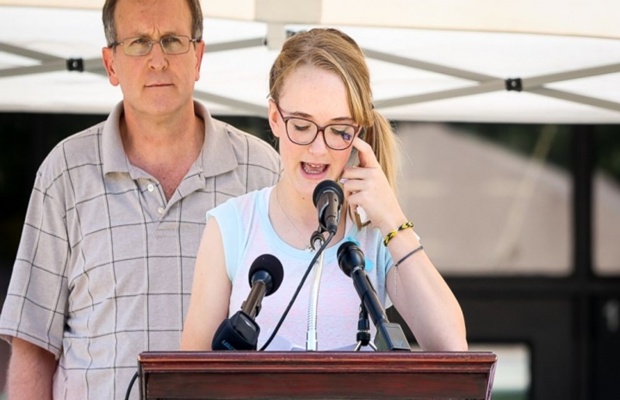 One day after her release from the hospital, Cassidy spoke an audience of several hundred at memorial service held to commemorate her family in Spring, Texas: "Happiness can be found even in darkest of times, if one remembers to turn on the light," the young girl told a crowd at an elementary school in Spring, Texas, according to the Houston Chronicle.
"I'm really thankful for all of the people who have been praying for me and keeping me and my family in their thoughts these past few days," Cassidy continued. "I'm feeling a lot better, and I'm on a straightforward path to recovery."
She also thanked first responders, doctors and well-wishers for their tremendous support throughout the ordeal. Wednesday night, a gunman killed six people, including his ex-wife's sister and husband and their four children, in a shooting rampage at the Houston, Texas suburb. Although Cassidy suffered a fracture in her skull caused by a bullet, she survived the ordeal by playing dead. She then called 911 to warn police that the gunman was going to her house next.
"Without her courage and quick thinking we might be mourning the death 20 people today, including myself and nearly all of my children and grandchildren," Stay's grandfather, Roger Lyons, said, according to KPRC-TV.
The young girl's grandfather also said she felt as if angels were telling her to remain quiet during the ordeal. "We have wondered whether those angels might have been her brothers and sisters," he said.
(c) GH