As our nation celebrates its jubilee,
AFLEWO

(Africa Let's
Worship),the largest annual interdenominational gathering, shall be hosting Africa Lets Worship 2013.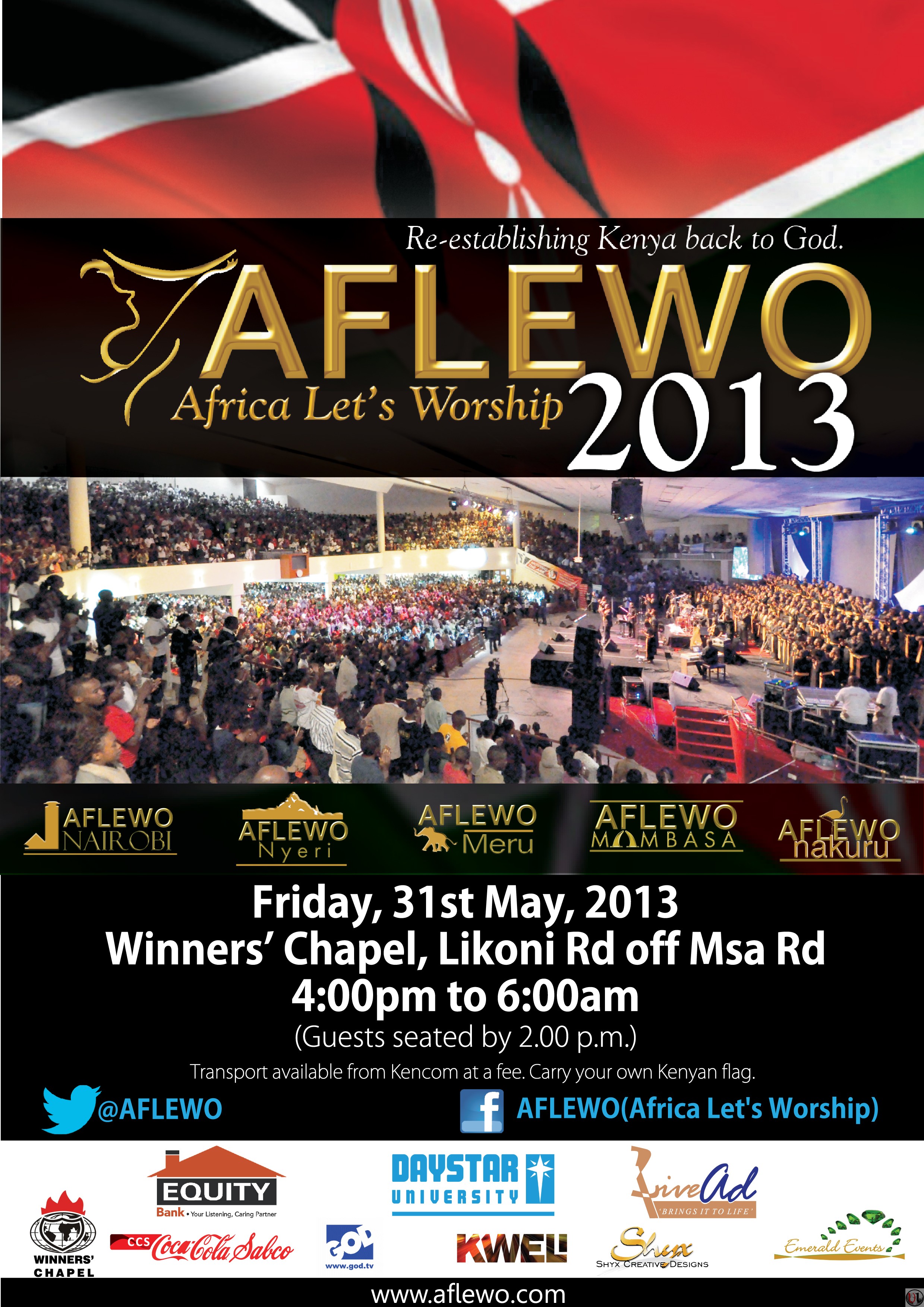 An interdenominational prayer and worship event whose theme is "Re-establishing Kenya to GOD" will be going down this Friday 31st May from 4pm-6am at the ultra-modern Winners Chapel auditorium on Likoni Road off Mombasa Road.
The event shall be held on the eve of Kenya;s 50 years 
of independence known as, 'Madaraka' Day.
AFLEWO, which is in its 9th year, inspires belief in Kenya and Africa through its vision, 'To stir up hope in Jesus across Africa through annual events of worship in Music and Prayer by 2017'.
This year's event will bring together over 20,000 people and leaders representing diverse backgrounds in prayer and worship led by a 700-voice choir drawn from all AFLEWO local chapters in Nakuru, Mombasa, Nyeri, Meru and Nairobi.

This event will feature prayers and declarations over the key 'mind shapers' of a nation led by various men and women representing these areas which are: government, media,
business, family, education, sports, science and technology and the
church.

AFLEWO 2013 is a special event unlike previous AFLEWO events. AFLEWO
is excited to have more than 15 hours of worship for the first time in
9 years. The AFLEWO 2013 vision involves the government in leading the
nation in prayer as we celebrate 50 years of independence.
As a result of Madaraka Day celebrations on 1st June, 2013, AFLEWO 2013 will
commence at 4 p.m.(guests to be seated by 2 p.m.) led by the
government.