This act implies having a good heart or we say GOD is one?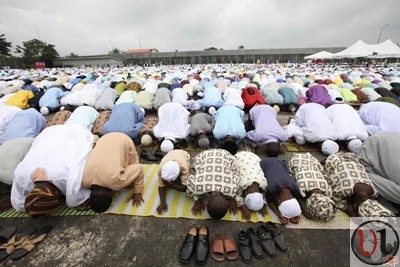 A Christian cleric was given a Muslim award. He had bailed Muslims out of jail so they could spend Ramadan at home.
Father Yohanna Buro of Nigeria and a group of volunteers have secured the temporary release of 30 Muslim men and women from the jails of the northern Nigerian city of Kaduna so they can fast with their families during Ramadan.
The prisoners were serving jail terms because they had been unable to pay fines or bail. The Christian aid workers found the money and are also paying their travel expenses for the journey home.
"I have sought the release of my Muslim brothers, so they can fast and pray to God that peace will prevail in our country," he said.
Father Buro and his fellow Christians want adherents of the two faiths to live together in harmony in Nigeria. In Africa's most populous country, Christians, Muslims and members of various ethnic groups are frequently in conflict with one another.
There have been deaths on both sides, and churches and mosques have been destroyed. For this reason, Muslim clerics and other Kaduna residents were pleasantly surprised by the engagement shown by Father Buro and his supporters.