NIGERIA
Ugwu, who works for Patovilki Cleaning Services, a concessionaire engaged by the Federal Airports Authority of Nigeria to keep the Murtala Muhammed International Airport, Lagos clean, was on a monthly salary of  7800N equivalent to 3500 Ksh  before the incident.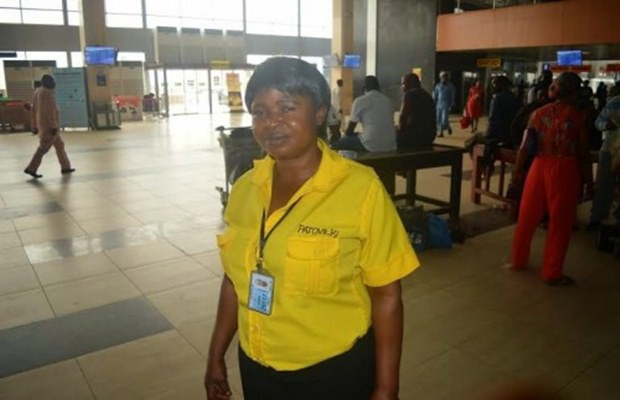 The National Diploma graduate of Our Saviour Institute of Science, Agriculture and Technology, Enugu, now enjoys a N7,200 [Ksh 3000] salary increment, bringing her new salary to N15,000 [6922 Ksh].
During a visit to the airport on Monday, PUNCH Metro interacted with Ugwu's colleagues who expressed disappointment that such act of uncommon integrity was not noticed by the government.
They argued that a society that was quick to mete out punishment to offenders should also be quick to reward exemplary behaviour.
Speaking on the condition of anonymity, one of Ugwu's colleagues lamented that the government did not have a culture of rewarding and encouraging exemplary behaviour.
She said, "Some people have abused her and called her a fool for returning the bag. It now looks as if what she did was wrong. Most people will not be motivated to follow her lead when faced with similar situation. The government should have, at least, sent her a commendation letter for what she did." Another colleague, identified simply as Faith, also expressed disappointment. She said Ugwu had returned passengers' luggage with money in them for a record third time and all three had gone unnoticed.
She said, "Twice in December 2014, she returned passengers' luggage with huge sums of money in them.
"One contained about N600,000 and the other had close to N2m. if it were to be a case of stealing and she was caught, I am sure the government would have been quick to send her to jail."
Ugwu, however, said she had no regrets for what she did, but would not mind being compensated.
She said, "I believe that a good name is better than riches. This incident has taken my name far and wide and I am happy that it is for a good cause. God's reward is the ultimate, but if the government will give me a proper job as promised, I will be happy.
"My company on its part has tried and I am grateful for the management's action. My salary has been increased and I have also been promoted."
Mrs. Eunice Anumudu, Ugwu's supervisor at the airport, praised her integrity and uprightness, saying that Ugwu had become a role model, not only for her colleagues, but for all Nigerians.
"What she did is worthy of emulation. Many people in her shoes would have done otherwise. She is a role model to her colleagues and to all Nigerians. I will be happy if the government can do something to encourage her," she said.
source (c) Nigerian News update