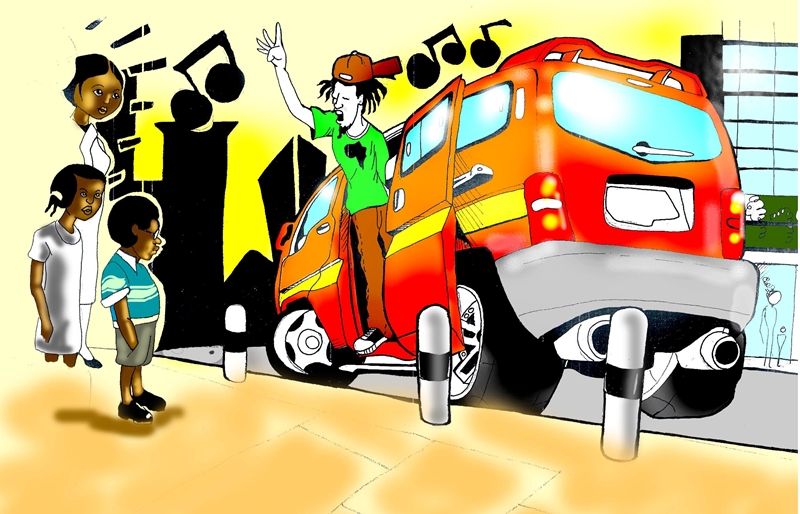 Photo courtesy : Mchoraji
Nairobi public service commuters will be shocked by gory details of a horrendous car-jacking ordeal in which seven women were robbed and raped by brutal gangsters who forced them to take spiked drinks.
The passengers, who were being treated on Tuesday at a Nairobi hospital and three men who were treated and discharged, were subjected to a dreadful attack in which they lost money and personal items, before the women were raped by thugs who commandeered a matatu from the city centre to Dandora estate.
In what could be a scary pointer to a new tactic by carjackers to subdue their victims, once the matatu was brought to a stop at an open field in the crime-ridden estate, each of the 10 passengers were forced to sip a soft drink that was laced with sedative drugs to knock them unconscious.
Some of the women, who recounted the horrifying ordeal from their hospital beds yesterday, said it was sheer horror as they were forced to take some drink that emitted a pungent smell. The ordeal started at the Ronald Ngala street bus stop at about 10pm where four men boarded a Donholm bound 14-seater matatu that already had 10 passengers.
On reaching the Jogoo-Road Buru Buru junction, the driver and the tout said they had to use a short-cut that would take them to Outering Road, through Buru Buru Phase One, to avoid a snarling traffic jam.
"As we protested that the route would be a long detour, the four thugs who sat at different seats in the vehicle pulled out guns and ordered us to shut up. That was when we knew it was a hijack, and it suspiciously looked like the driver and the tout were in it too as they cooperated very easily," said a victim only identified as Ben.
He added: "We were told they would shoot anyone who tried to raise an alarm. They ordered the driver to head to Dandora. They took us to a dark place where we were ordered to get out of the vehicle one by one. One thug put a gun to the head and another ordered each of us to drink something from a soda bottle. I didn't know what time I became unconscious."
One female passenger recounted how one of the thugs was constantly speaking on a mobile phone asking many questions about direction. "He was constantly calling another person on the other end and then he would turn and give direction to the driver, " said another of the female victims.
The thugs, who seemed to be well conversant with the route, avoided all the areas where they could pass by a police road block. "As we alighted, one thug kept saying, kunywa hii haraka, jaribu kuongea ukule risasi ya kichwa (Drink this quickly, if you raise an alarm you will be shot in the head)," said one female victim.
After sipping the drink, each victim was directed to a compound of a nearby abandoned building. From then, the thugs had a field day as they robbed the passengers of cash, handbags, phones and other valuables. All the passengers woke up on Tuesday morning, naked and feeling drowsy.
Evidence of what had happened was all over as used condoms were strewn on the floor of the building. Residents in the area who started noticing something amiss in the building at dawn gathered and helped the victims.
They were given clothes and shown the direction to a local police post. Nairobi County Commander Benson Kibue and Police Spokesperson Zipporah Mboroki said they were unaware of the incident, though their juniors at Dandora and Buru Buru police stations were fully aware, but could not speak on record.
Some of the victims reported at the Dandora Phase Five police post while some were said to have just boarded matatus without reporting.
One victim was said to have reported at Buru Buru Police Station, but senior police officers appeared keen not to divulge details of the attack. The women said they were helped by a good Samaritan, who took them to hospital. Of the three men, only Ben could be traced. – People Daily